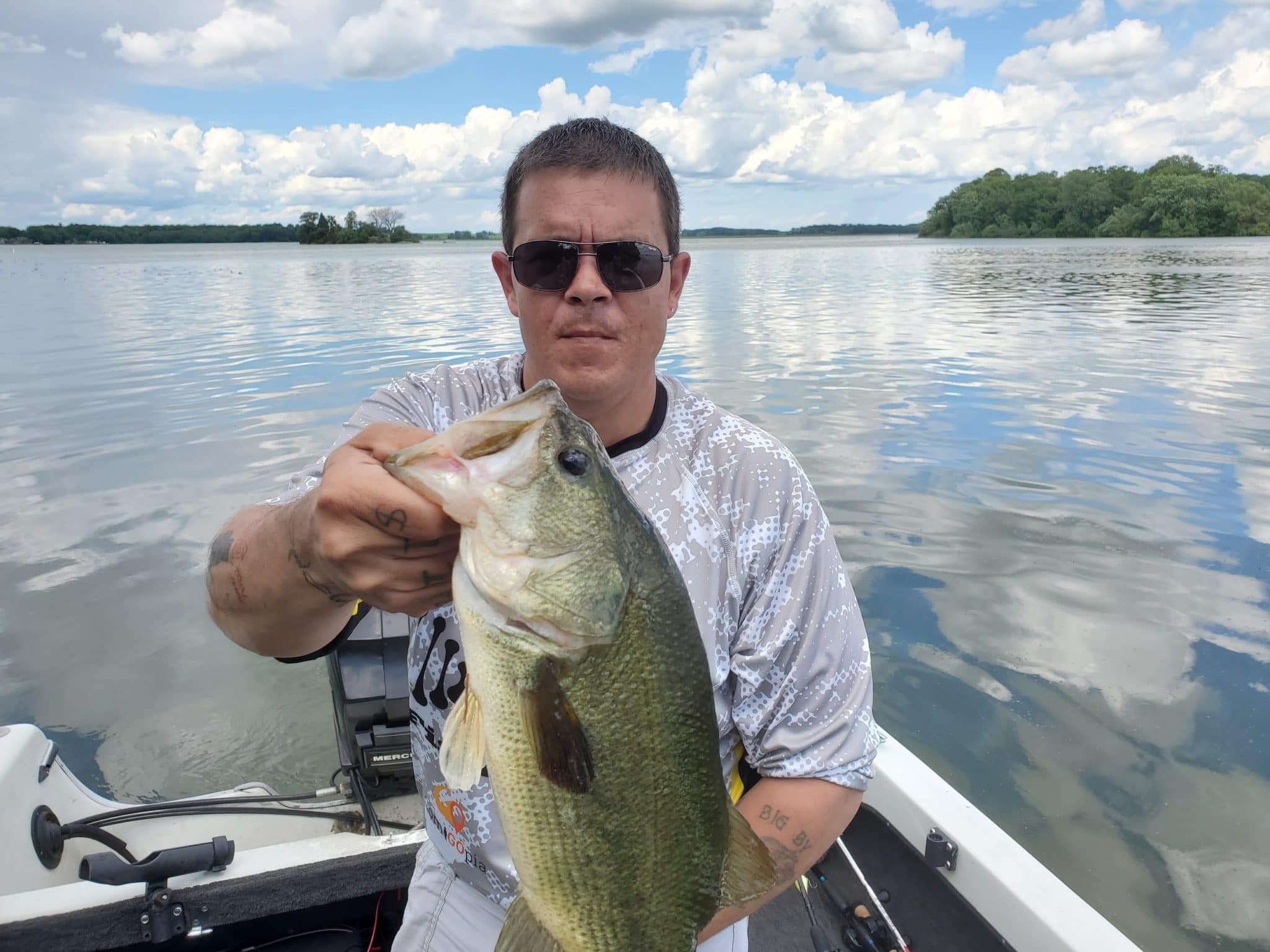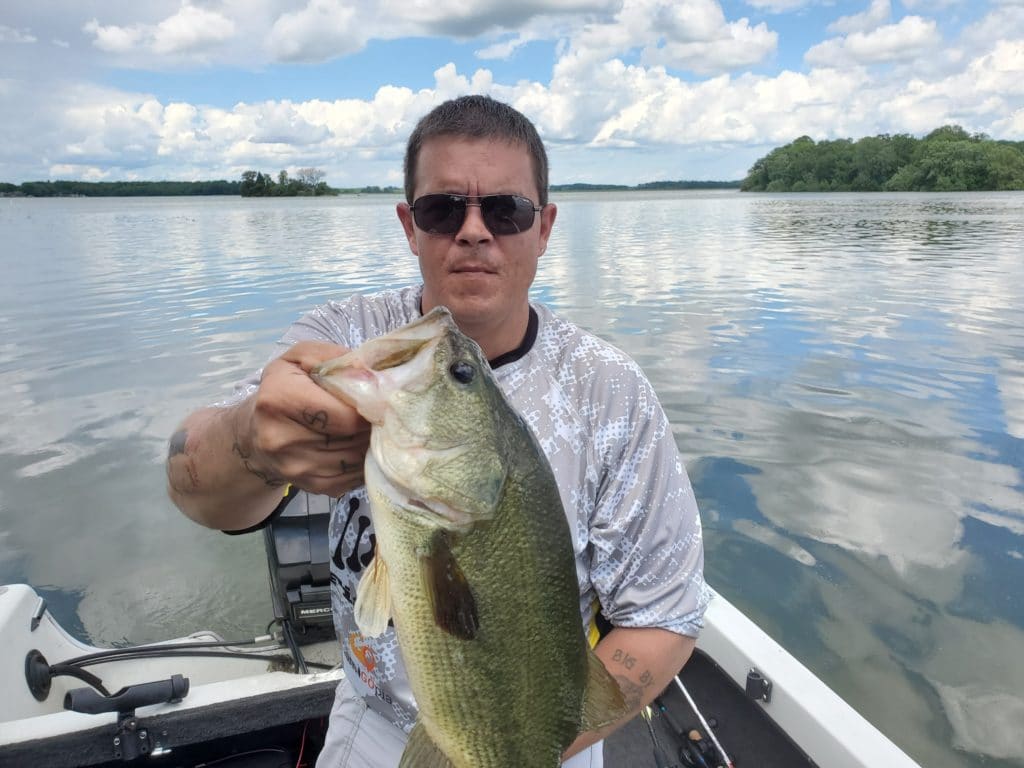 Last night we were on Fox Lake in Wisconsin.  It has become my favorite lake to fish.  After years of tight fishing regulations, it's northern pike, bass, and walleye populations are very healthy and doing well.  I look forward to every trip to Fox Lake.  
Remember to practice CPR: Catch – Picture – Release. 
A fish population stays healthy, not just because of the regulations, but because of practicing selective harvest and catch and release. Take a picture and throw 'em back to get bigger.  If fishing to keep, keep just enough to eat.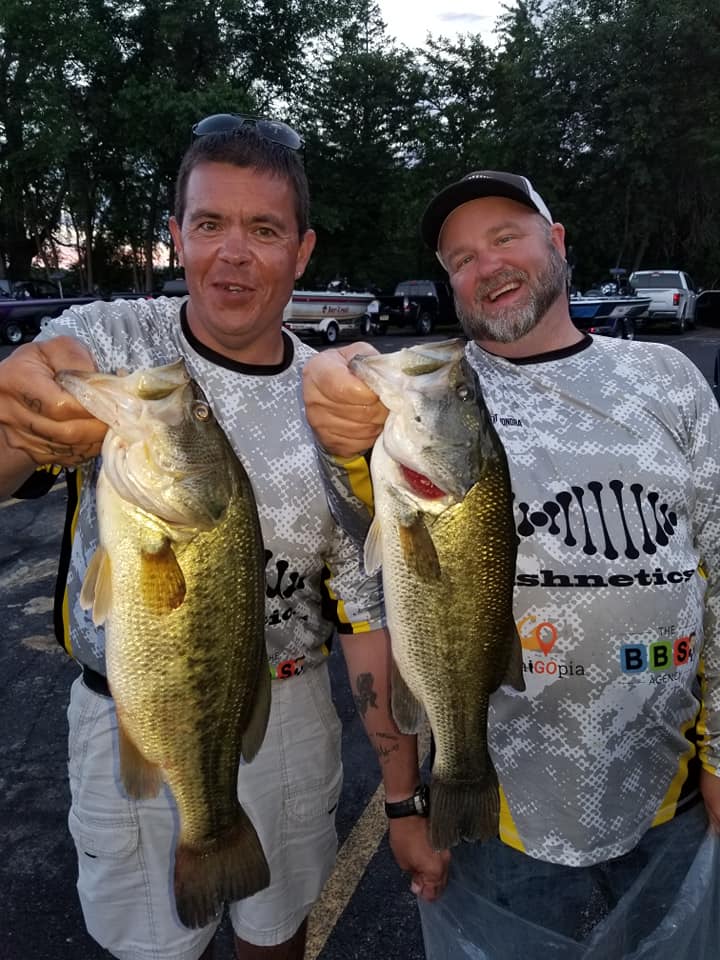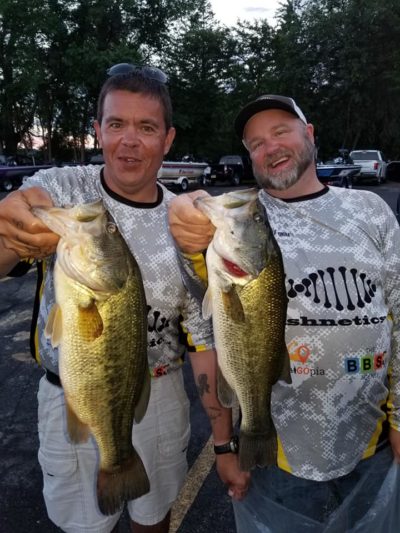 Conditions
The weather was unstable with scattered thunderstorms.  Several thunderstorm cells were in the area in the early afternoon. When bass league started at 5:30, a big cell was moving in and must have missed by less than a 1/2 mile. We could see the rain pounding the fields just off the lake and hear the thunder and see lighting a occasionally (nothing too close though)
Air temps in the low 70's
10+ mph wind from the west in mid afternoon, that changed from the north after that thunderstorm, finally calming down to under 5pmh winds around 7:30 pm
Water temps in the mid 70's everywhere
Water clarity was about 1′, very green in color
Weeds are mostly MIA… except for in the Jug. During the end of May (my last trip to Fox Lake) the Government (east side of lake) was covered in weeds. I expected to be chucking a frog all night.  Those weeds were non existent. The filamentous algae choked them off. 
The Pattern
I had planned on frogging for bass back in the Government all night long. In late May there were several good large weed beds forming.  It was the first spot of the lake we checked.  They were gone.  No giant weed bed. No clumps of weeds…. just scattered straggle individual weeds.  The bottom was almost clean enough to run a crankbait.  I checked with someone who lived on the lake… and he said they died off about 2 weeks ago. The filamentous algae was so thick it either choked them out, or when the filamentous algae started to die off, the decaying weeds caused oxygen starvation and killed the weeds off.
So…change of plans.  When we started fishing the wind was blowing at a good clip from the west.  Since the weeds were down, the bass were tight to available cover. We targeted them on the protected side (out of the wind) in laydown trees, docks, rocks, you name it.  This pattern was pretty consistent.
One of our 2 biggest bass came from the protected side of an island, just off the current created by the wind, under an overhanging tree.  The second one came off of a dock.  All of the biggest fish this week came from flipping and pitching a 3/8 once black/blue jig.  We caught double digit bass, the usual ton of pike, and a few small walleye.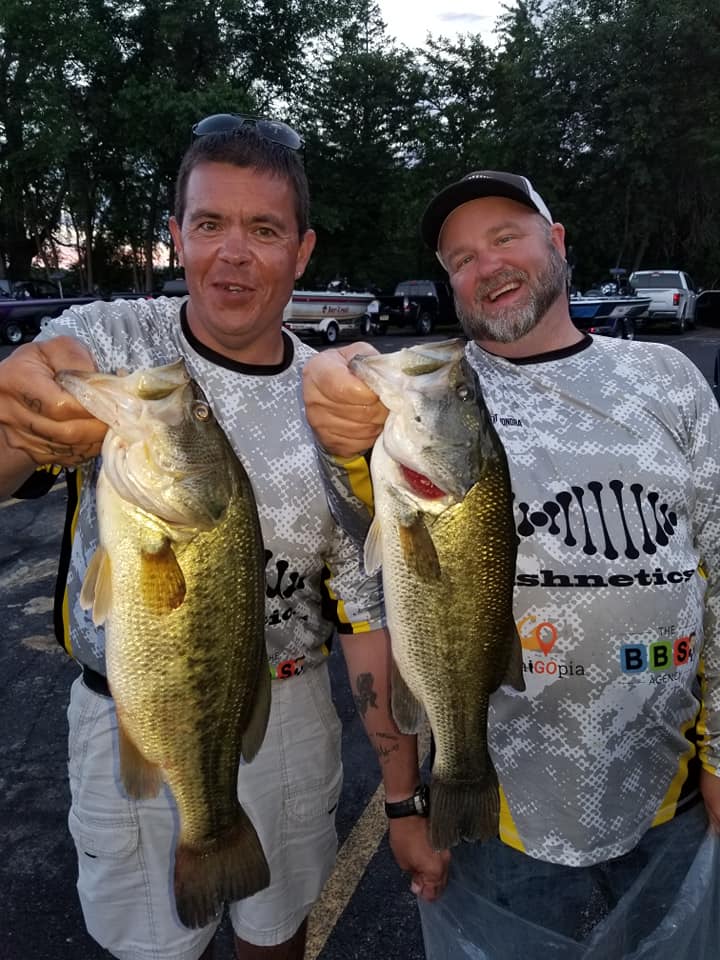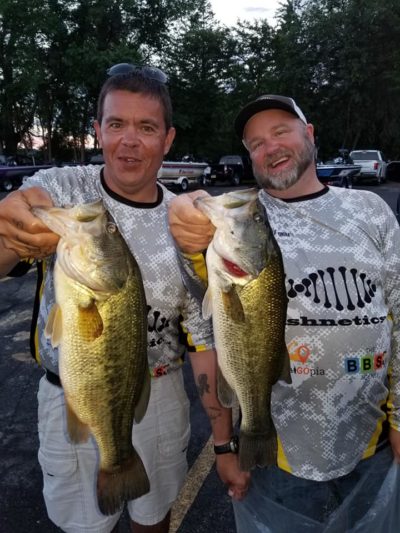 The Equipment