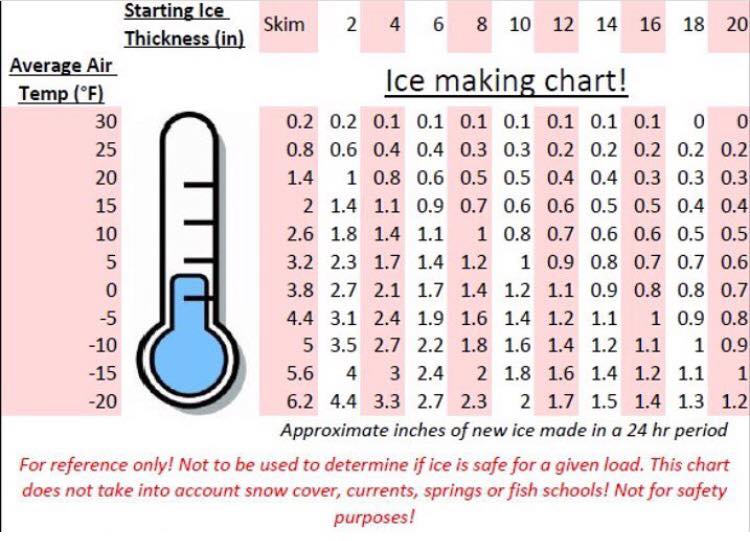 How thick should ice be to ice fish on? How thick for snowmobiles and ATVs? How thick should it be to drive a truck on it? 
Use this handy ice making chart when heading out for early ice fishing this year to get an idea how thick the ice "should" be on your favorite body of water. 
Use common sense.  Stay off ice that's less than 4 inches thick. Go ice fishing with others… especially during early or late ice so if you fall through, someone can help you or you can help others.
As a general rule, avoid ice that has cracks or ice near inlets or moving water. If you are not familiar with an area, be sure to speak to the locals. Check with the staff at the bait shop. Ice rarely is the same thickness all the way across a body of water and can change in a foot step. Always be safe and do not put yourself or others at risk.
Wear a float suit. Bring ice picks to help pull yourself up if you fall through. Bring a throw rope. Every year we lose a few ice fisherman through the ice. Be safe out there.  Bring your safety gear, be sure to test the ice with your spud bar as you go, and bring a buddy.
Don't be a statistic. Stay safe. WARNING: Always be cautious. If you're uncertain if the ice is safe, do not take your chances!