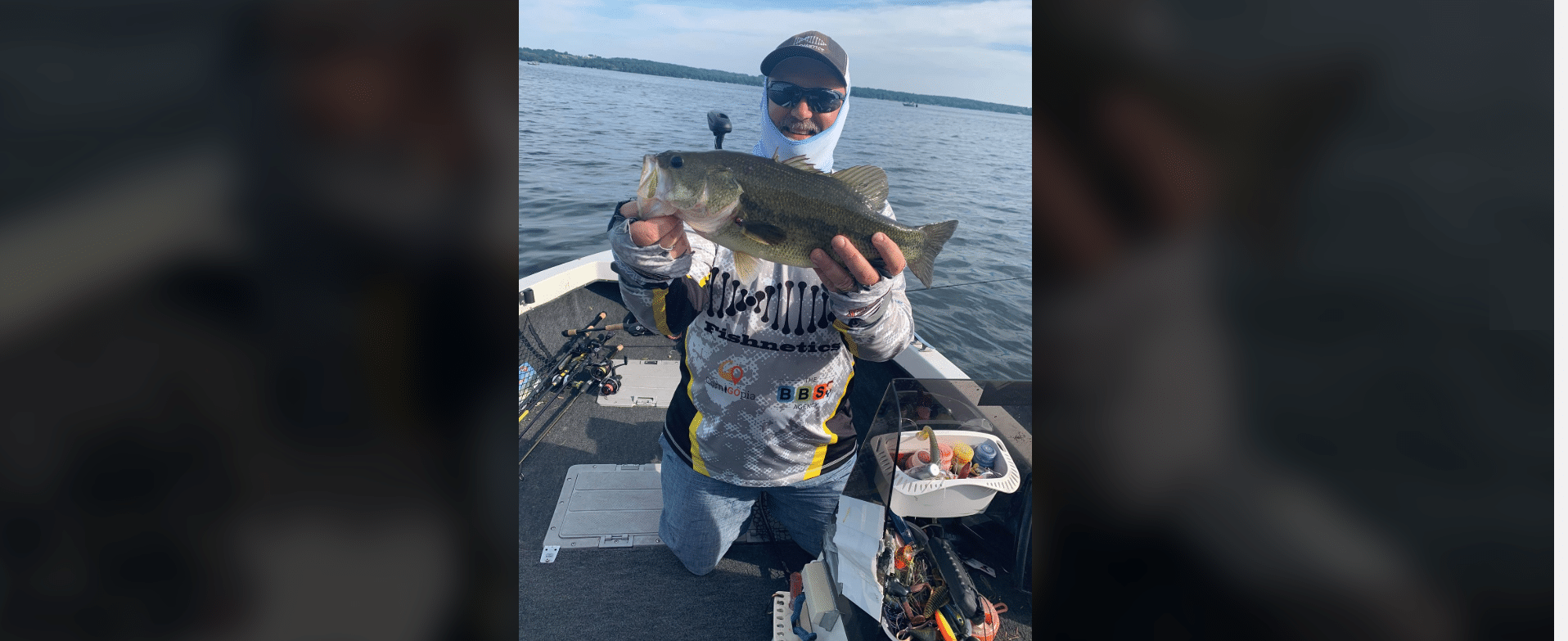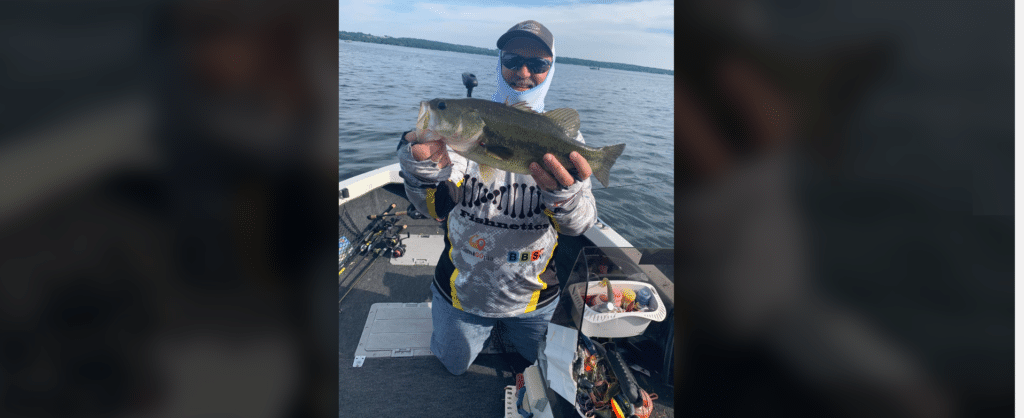 Bass league took us back to Big Green Lake.
After a very rainy spring, the water clarity if finally clearing up. The weeds are are starting to come on strong. The bluegill spawn is on. The bass are moving into post-spawn / summer patterns and things are starting to heat up.  Literally…. it was hot!  The weather has been hot and fairly stable for a while… and according to Weather.com, that is what most of summer is going to be like. The jet stream is favorable towards a long hot summer.  My favorite
Conditions
Sunny, with air temps in the mid 80's. Warm at night
Mild winds of 2-8 mph.
Water surface temps were from 74 to 82
Water clarity is 8′
Weeds are starting to come on strong. Should have some firmly established weedbeds in the next week or so. (Which means the deep weedline bite should start heating up!)
The Pattern
We never found a consistent pattern. We saw a few small schools of bass roaming the shallows, but getting them to bite was another thing. They were wary and have been pressurized all year long.  If we could see them, they could see us.  With the exception of those few small schools they seem very scattered right now.  
Once the weeds get thicker, bass will be easier to catch.  They will feel safer and will have a plethora of ambush spots.  With the sunny conditions we expected bass to be in the nearest shade and best cover… the docks.  We managed to pick a few largemouths off of of a single dock… but that was it. We easily fished 20 to 30 other docks with nothing to show for it. We tried various flats, the deeper weed edge, off the first drop-off, off the second, shallow fish cribs, deep fish cribs, some rocky hubs/bars/points, etc.  We struggled to put together a pattern all night and our under 5 lb bag (2 fish) proved it. Nothing of size. We spent most of league trying to upgrade a 1.5 lb bass and couldn't.
Frustrating night. 
But like every trip, we learned a few things.
What We Learned 
Big Green has some huge bluegill. (Really big rock bass too)
The 2 bass in our livewell were regurgitating small crayfish that were orange in color.  The jig I caught them on was my only small jig in that color… which I lost a few casts later. I never got another jig hit on a larger jig in the same color, or a different colored smaller jig.  Same color of crawfish the bass were feeding on last year around this time. 

2 years in a row… small orange/brown crayfish type baits in late June and July on Big Green match the hatch.  This is important. 

My stern mounded transducer is not level when we are in the water.  I only get good side imaging returns when in deeper water. It leans to the starboard side, essentially rendering my right side imaging un-usable. Crap… that means I need to remount it. 
Due to the water clarity, and the weeds just starting to grow thick, we were able to GPS several more underwater pieces of structure.  Large 10′ diameter gear anyone?
The more I flip and pitch jigs, the more I love it.  
Tendinitis makes working a jerkbait painful.  Not recommended.
We have guys in league with a lot more experience who ALWAYS find fish.  Nothing beats time on the water. 
I started writing fishing reports to keep better track of what was happening when I was out fishing with the weather, the body of water, the fish, my fishing tactics, and the results.  I'd read in many locations that many pro's and guide kept a fishing log. Some don't. But those who do, swear by it's usefulness.  I gotta agree.  Every time I hit the water I get better. I learn more.  Being able to look back and learn from what worked and what didn't helps significantly. 
Next week we are back on Fox Lake. I'm heading there on Sunday as well. Fox Lake is SIGNIFICANTLY smaller than Big Green, so I know that lake much better and have gotten much better and significantly faster at putting together a pattern on that lake.  I love the challenge of figuring things out. When you do put together a pattern you can almost call your shots.  When that happens, it's just beautiful.