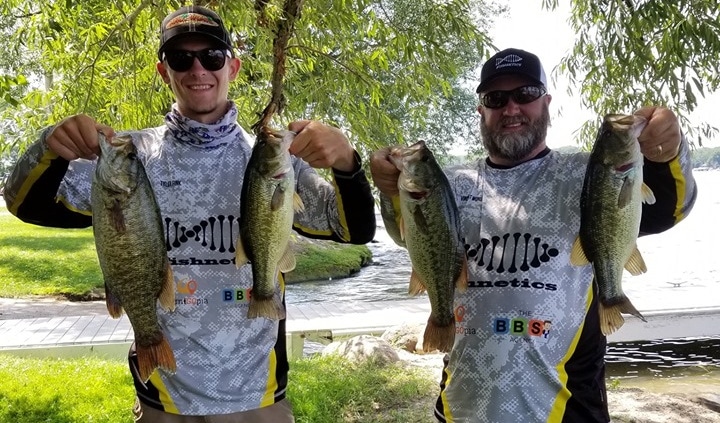 Saturday, July 27th was the Big Sacks Big Green Open.  38 boats competing for the biggest 5 bass limit of largemouth or smallmouth bass.  First place went to the Boat of West – Jurs with 18.86 lbs (which included a 1/4 lb penalty for 1 dead fish). Big bass went to 5.34lbs to the boat of Daye – Kirkpatrick (who also placed 4th).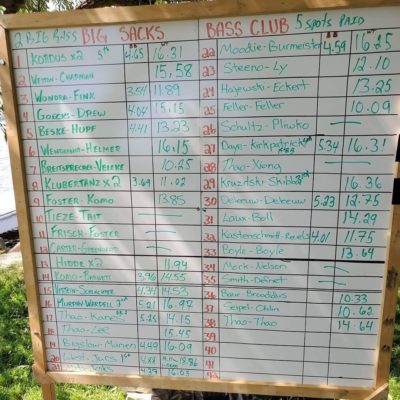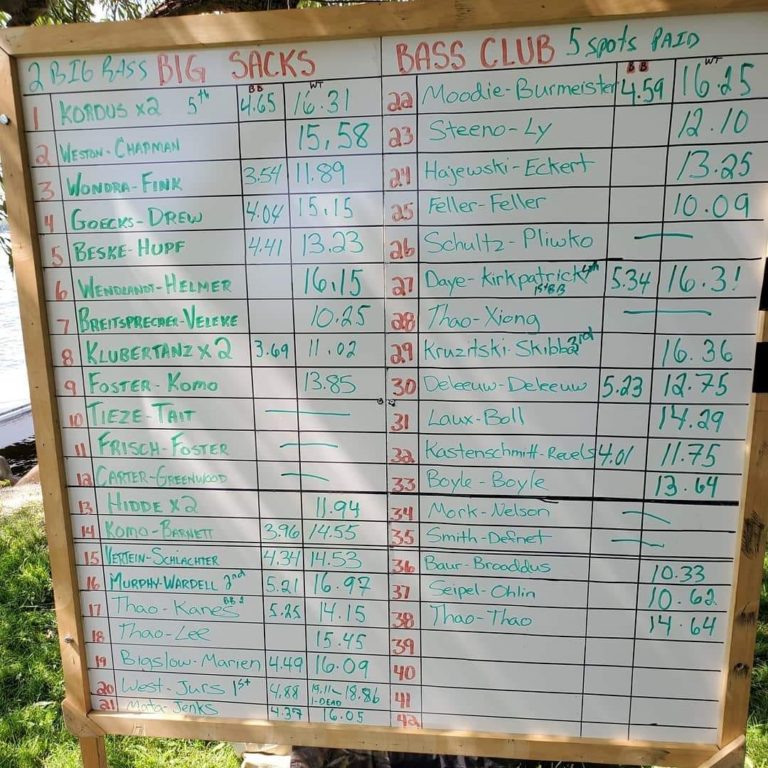 Our boat, the combination of myself and Tyler Fink placed 24th.  Not nearly as well as we had hoped, but not terrible.   I review our practice & tourney day below.
Friday, July 26th – Practice
The morning started cloudy, humid with the threat of rain and remained that way pretty much most of the time we were on the lake. Tyler and I hit the lake about 7:30 with an idea to focus on the western side of the lake and try to establish a pattern.  My boat has only a 8 gallon tank and Green Lake is a big lake.  I've almost run out of gas several times on this lake. I also top out at 30mph, so it also takes us longer to make runs.  So focusing on the half of the lake closest to take off made sense.
We found a nice top water bite outside of Beyer's cove that lasted until around 9 AM. After that died down, we checked on Beyer's cove.  We found a largemouth bite primarily within the first third of the cove, where the wind was blowing into. The further we went back, the less activity we found and worse water quality.  Less minnows, less panfish popping on the surface, and less hits.   The fish outside and inside the cove were not tight to cover. With the cloud cover they were away from cover roaming around.   
The weather forecasts called for more of the same weather tomorrow (that forecast off was way off), so we pre-fished several offshore flats and locations that I know of that usually produce in similar conditions close to Norwegian Bay.  We had more luck for smallmouths on rocky flats, than for largemouth in the shallows and docks.  
Saturday, July 27th – Big Green Open
We were boat #3 to launch on a calm morning and were the only boat that ran to our first spot outside of Beyer's Cove.
Conditions
Morning was calm, slightly cloudy with a slight S wind just enough to cause a ripply on the water
By mid morning into afternoon the clouds moved out and it was sunny and pretty windy the rest of the day. (Boy was the forecast wrong the day before!)
Winds in the AM, 3-5 MPH from the South,
Winds in the late afternoon into the PM , 8-15 MPH from the SW
Water in the main lake was very clear. The shallows got a bit stirred up later in the morning due to the winds and boat traffic
Water temps were in the high 70's to low 80's pretty much everywhere
The Patterns
We found our top water bite waiting for us.  Tyler was throwing a whopper plopper (white) and I was working a walking bait.  Fish were surfacing all around us. Tyler bagged our big fish (a 3.5lb smallmouth) early on and we caught a few others.  They were not hammering the baits like the previous day and we missed a fair amount of hookups.  They were kind of just smacking the baits.  Usually that means the fish are interested but something in the profile, color, or retrieve is off. We tried several different top water presentation, retrieves, and colors, and tried a few sub-surface baits. We only got strikes on top water lures, but never did narrow down what was off about our presentation. Like the day before, the bite died down around 9 AM and we headed into Beyer's Cove…. with little luck. All of the activity we saw during pre-fishing was missing. Few minnows, no panfish popping the surface anywhere, and not a single hit… not even from hammer handle sized pike (which is rare in Beyers cove). 
We moved onto our other locations and managed to fill out our limit around noon.  With the exception of Tyler's larger smallmouth most of the fish we were catching were in the 1 1/2 to 2 lb range.  Fun fish to catch, but no where near the weight that we needed.  The wind kept building and ended up being a challenge for boat control. The shorelines we had targeted during prefish were primarily on the northern side of the lake as as the wind built up, so did the waves… and about 10 AM the pleasure boats came out in force which lead to some erratic and large waves as well as boat control challenges. Thank God for my Minn Kota Terrova with iPilot Link.  I was able to pick a contour line and have the boat follow it automatically, but weaving in and out of docks was all but impossible on the northern shorelines.  I would have preferred to move along slower for some fitness presentations, but unless the motor was on half speed, the wind and waves just moved us around too much. 
We finished out our limit fishing with crankbaits and jerkbaits in 5′-8′ water over rock/sand/gravel mix.  With the wind, I expected more of a jerkbait bite, but crankbaits bouncing off the bottom worked best for me. From what the fish were regurgitating in the livewell, they were primarily focused on small crawfish that were very red/orange in color.  We also suspected they were chasing small perch as well. Both during prefish and practice, we saw small schools of small perch in every location we caught fish.  After our limit was filled out, we tried a few deeper offshore spots with no success and finished the day fishing docks.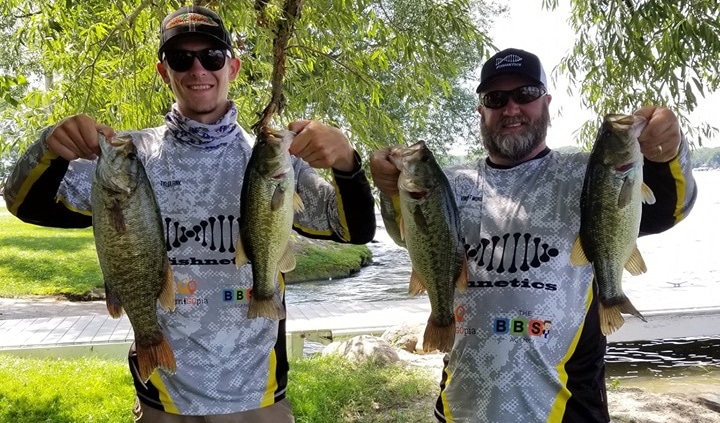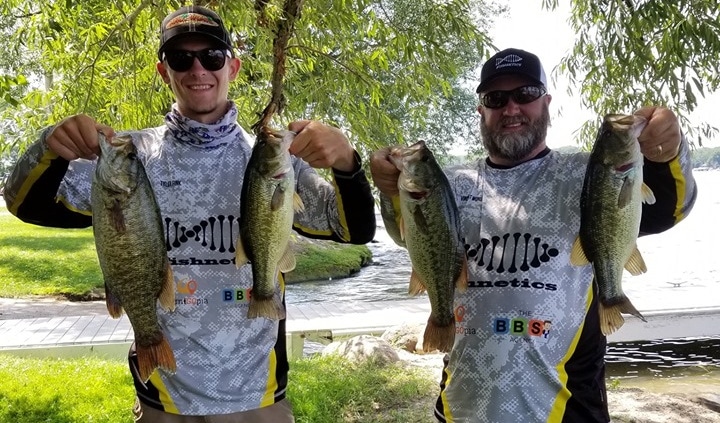 We managed to cull up only once to finish the day with a pedestrian 11.89 lbs for 5 fish (mix of largemouth and smallmouth).  
Baits Used
In Hindsight
To clarify this was my 2nd tournament ever and my first 5 fish limit format. I made some judgement mistakes. Due to the increased wind and the sunny skies of tournament day vs the cloudy overcast and lighter winds of prefishing, I should have made better divisions and changed the gameplan early on. The higher winds made the fishing of the northern shorelines more difficult than it needed to be and the sunny skies had the fish tighter to cover.  We should have abandoned our offshore flats and concentrated on a dock pattern on the calmer southern and westerns shorelines.  This is a pattern I know well…and have done well with for years fun fishing on Big Green Lake. It's a known pattern.  When the sun is high, the largemouth bass like to tuck themselves back in under docks in the deepest shade they can find.