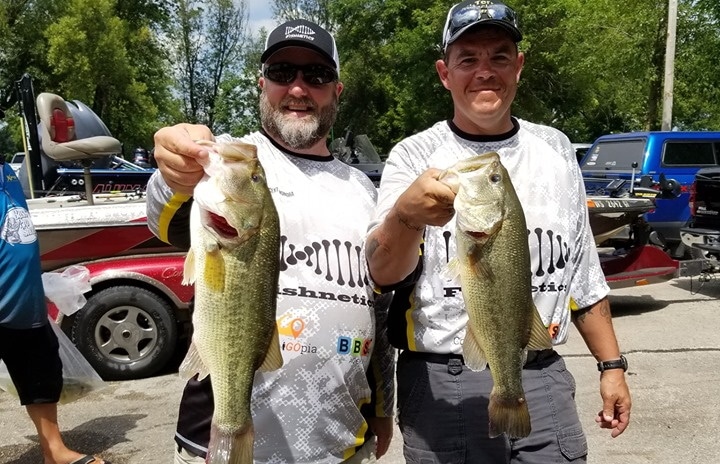 Saturday, August 3rd was the Big Sacks, Big Bass Blast tournament on Fox Lake, in Dodge County, Wisconsin.  Each boat of 2 anglers competing for the most weight.  Lake limit is 1 bass, per angler with a minimum size of 18″.  I love the lake limit. It's helped to make Fox Lake an amazing fishery.  There were 21 boats competing and we finished a respectable 10th place.
Friday, August 2nd – Practice
The forecast for both days was similar. Hot, humid, and sunny with low wind. With those conditions, I felt that the bass would tuck up tight to cover as the sun rose.  We hit a few spots that we found during our last league outing on Fox Lake early in the morning.  The last time we were here, we had our best luck focusing on where a feeder creek dumped into the lake. That area had slightly cooler water temps and clumps of good health coontail. Before the sun was high (pre 10AM) the pattern held true.  We caught fish on chatterbaits where we expected (and some nice sized pike)…and went looking for similar locations. We found a really large flat north of our first spot full of scattered coontail clumps by another feeder creek I'd not fished before.  This area was even better…and larger.  The fish were not tight to shore. They were offshore by the clumps of weeds.
But as soon as the sun got high, that bite pretty much stopped.  So we hit up docks trying to put together a good dock pattern.  We worked docks all over the area and kept only catching shorts.  I was flipping the docks where able, and then skipping a neko rig into the deepest recesses I could find.  We caught fish… but they were all under 18″.  Too short to count.  Hmm… so if the larger ones were not on docks, then where?  We went after other structure like lay downs, thicker shorelines weeds, and managed to track some nice bass down while flipping. All were very tight to cover and in deep shade.  We also had some luck with frogs over the thickest weeds we could find.
So we had our plan. Hit the thick clumps of weeds with chatterbaits until the sun got high. Then we were going to flip and pitch to natural shoreline cover with some frogging after. 
Saturday, August 3rd – Big Bass Blast
We were boat #3 to launch on a calm morning and were one of 2 boats that hit our first area. 
Conditions
Mid 80's
Humid
Sunny until around 11 AM, then partially cloudy (with the sun the shade from those clouds felt great)
Low winds
Water quality ..less than 6″ visibility.  Chalky green color water
For once we were faster than the other boat and got to fish our spot first….with no success.  We gave it about 20 minutes, and then shot north to the large area with clumps of healthy coontail.  THAT proved to be the right decision.  We caught a 19 1/2″ and a 19″ bass to fill out our limit by 7:15 AM.  Talk about a stress relief! After a summer of struggles to have our limit less than 1:15 into a tourney was a huge relief and took a ton of pressure off.  In fact, that first hour in that location we caught fish, after fish.  I'm sure that between 6:30 and 8:00 we caught  at least 15 fish (bass and pike). Really fun way to start the day.
After the sun got up, we went to our secondary pattern of flipping and frogging, with no success.  That pattern just didn't seem to materialize.  The other boats for the most part seemed to be hammering the docks on the lake.  Since we only found smaller bass on the docks the day before, we made the decision to focus the rest of the day on the clumps of coontail. It was a large flat with lots of clumps. I think the bass were still there…. just tight to cover.  So we went looking for reaction bites in that area and worked it over pretty good.  We tried swim jigs, spinnerbaits (both colorado and large willow leafs), chatterbaits and a other lures, including a carolina rig.  We managed a few more bites, but with the sun being high, it the fish didn't want to move far.  We just had to cover water and get the bait right in front of a bass for it to hit.  We had much better luck if we dipped the baits trailer in Spike It Dip-N-Glow Lure Dye. The contrasting lighter color seemed to give the fish something to zero in on. Every fish we caught choked the bait down.
We ended the day with the same 2 bass that we started with in our livewell for 7.6 lbs.  We caught another 7 keepers (and many other small ones), but never culled up. Some came close, but never topped our first 2 keepers. 
Turns out that the big bass were tucked up under the docks on Saturday.  In talking to other teams and that is where the most of the larger bites came from.  The larger bass were not there on Friday during prefishing.  I cannot help but wonder if the increased boat traffic (significantly higher on Saturday) was the cause of the change.  Seems as reasonable explanation as any.
Baits Used 
In Hindsight
All in all, I'm pretty happy with the way the tournament played out. 
We put together our game plan on Friday. It worked great on Saturday… until it didn't.  Our flipping/frog bite never paid off, so we adjusted and focused on where we knew some larger fish were.  Any day your boat catches 9 bass over 18″ in Wisconsin is a pretty good day!  We executed our plan, adjusted when we needed to and ended up in the top half of teams by placing 10th, less than a pound out of 4th and 1.25 lbs out of the money.  1 larger bass… or 1 of our 2 fish having a full stomach would have made the difference. On Fox Lake, that difference could be your next cast.  I felt we were around the right fish most of the day. 
It was a good way to end my competitive bass fishing for 2019.  Each tournament was better than the one before.  But now I'm looking forward towards some fun fishing.  Next up… a guided bass fishing trip in Florida!  Stay tuned!