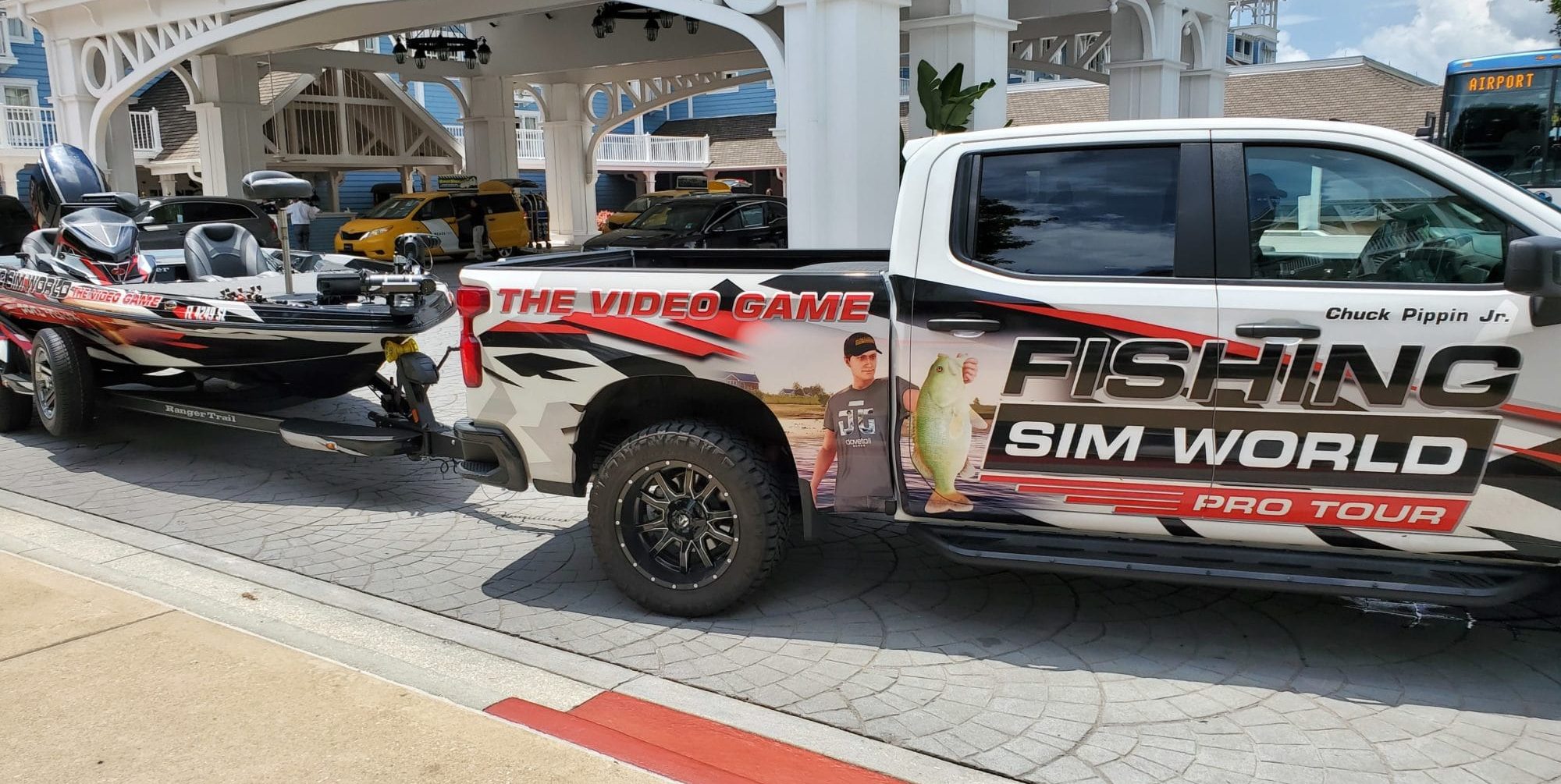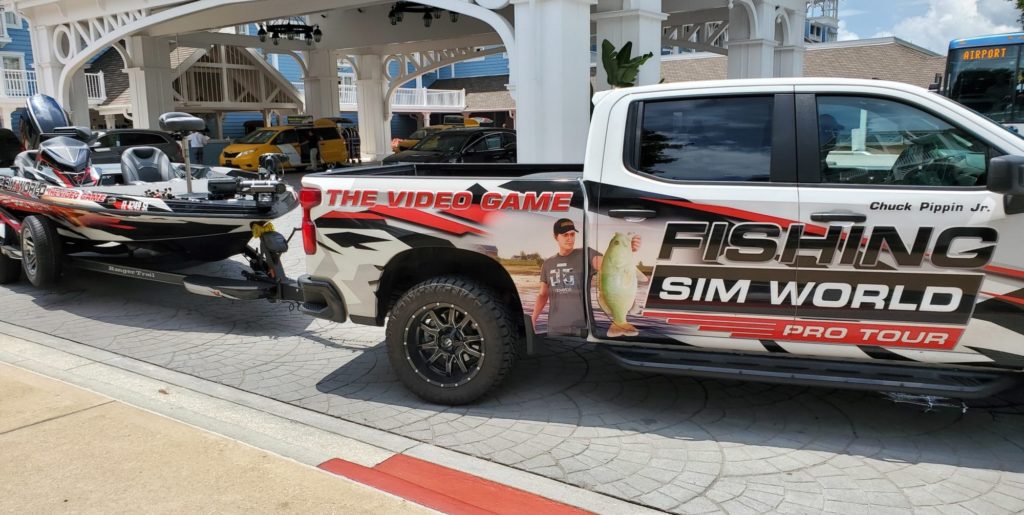 For 12 days earlier this month I was on a family vacation to Disney World. It was about my 6th trip to Florida since I was 10 (35 years ago).  Every time before I'd hoped to go bass fishing. This time, I finally got my wish.  At 5:45 AM on August 14th, famed Florida bass fishing guide, Chuck Pippin, picked me up at my resort in his beautifully wrapped truck and Ranger boat for a bass fishing trip on the Butler Chain of Lakes.  
Chuck has been a professional guide and professional bass fisherman for a long, long time.  He was one of the top guides for Roland Martin's Marina on Lake Okeechobee, has starred in commercials (like this one for the Minn Kota Ulterra), is a former FLW bass fishing pro, fishes the B.A.S.S. Eastern Opens, and is one of the main fishing consultants for the number one fishing video game in the world,  Fishing Sim World Pro Tour video game (out for X-Box and Playstation). And he is a web geek, like your's truly. He was the first Florida fishing guide with a website (that he coded himself) back in the late '90s. He still is developing on his website and is very active on YouTube, Instagram, Facebook and of course helping consult on the Fishing Sim World. 
So… not only did we talking fishing, but also talked about web development, search engine optimization, social media marketing, etc. Made for a very fun day.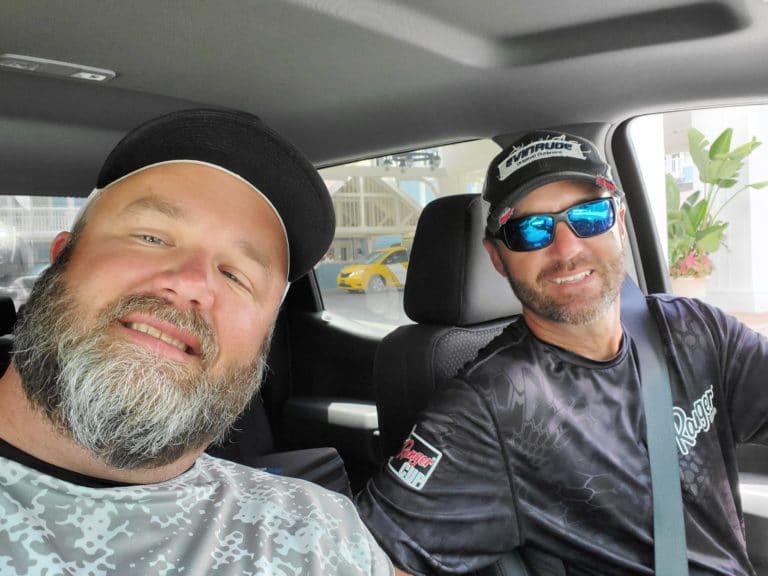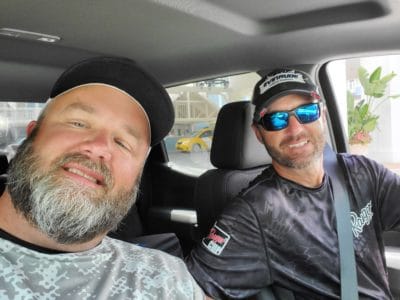 Conditions
The Butler Chain of Lakes wasn't what I expected. I expected dirty, shallow, weed choked water like Lake Okeechobee (and most of Florida) is famous for.  The Butler Chain of Lakes are crystal clear, deep (over 20′), and not weed choked at all.  Those lakes are the home to the rich and famous. As I pointed out in the video we were driving by Shaq's house (which was frick'n HUGE) as bass were busting the surface all around you.
We opened the day on a long point that was in about 15′ of water and dropped off to over 20+ on all sides. There wasn't much structure or weeds on the point, but there was a ton of small (under 2″) baitfish that schools of largemouth were chasing and busing on the surface. I'd never seen anything like it up in Wisconsin. All of a sudden a school would pin a baitfish pod to the surface and the bass would be flying out of the water as they were gulping mouthfuls (I captured some of this on video).
After that first spot, we hit a few others as the sun got higher.  The later spots had more weeds than the first one. 
The weather in Florida was consistent while I was down there. Mid 90's and humid as hell all day. Sunny with sparse clouds, low winds, with a thunderstorm about 2 PM.  Pretty much the same every day. 
Water temps were in the high 90's to the low 90's
The dog days of summer
Patterns
The main pattern was throwing Alabama rigs with small soft plastic swimbaits to mimic a small pod of baitfish. While we didn't catch much for size, I caught my first double on my second cast (see the video) and managed about 10 total.  The fish would only hit only during the pause during the retrieve. So I would cast out, immediate start reeling… then a dead stop… wait 2 to 3 seconds… and then reel again. Repeat all the way back to the boat.
After the Alabama bite died off (when the sun got higher), we switch to throwing a deadsticked fluke bait. We managed a few more with this technique before it was time to go home
What is is a deadsticked fluke you may ask?  Chuck has a video on that: 
Equipment Used
In Hindsight
The trip was a welcome respite in the middle of a crazy Disney World vacation.  I was hoping for a personal best bass (6lbs+) but if that was easy to do, I'd already have one.  We caught about 15 fish in total. The biggest was maybe 2 lbs.  It's summer.  If I really want the big ones, I need to go down during winter or early spring.
My wife and I are going back to Disney in January to celebrate our 17th wedding anniversary. My wife (she's pretty amazing) already had me book another trip with Chuck.  January should be the start of the spawn in Florida… so I'll have a much better chance of a personal best fish then.
If you are a bass fisherman and will be in the Orlando area, get a hold of Chuck Pippin.  You won't be disappointed.