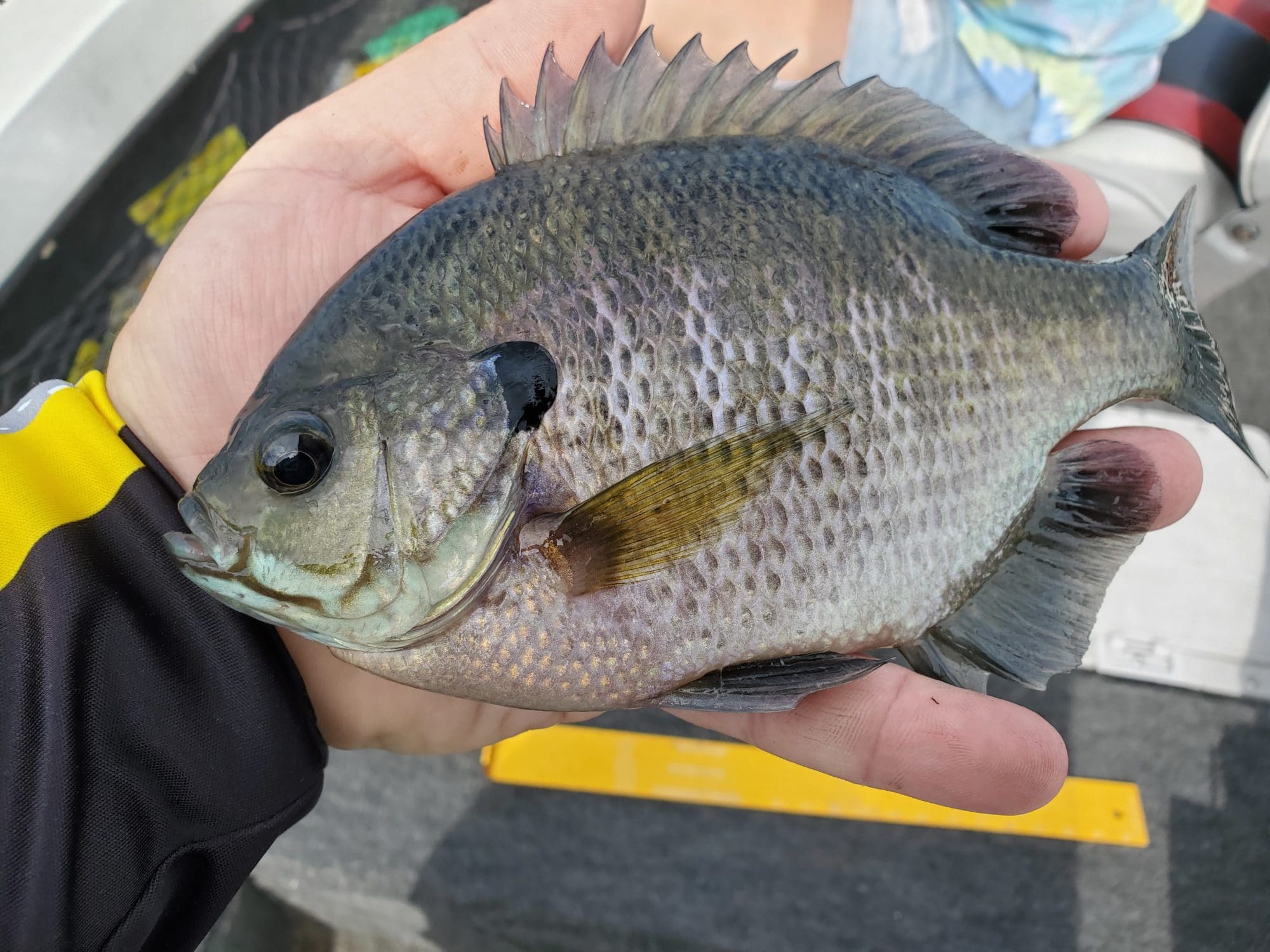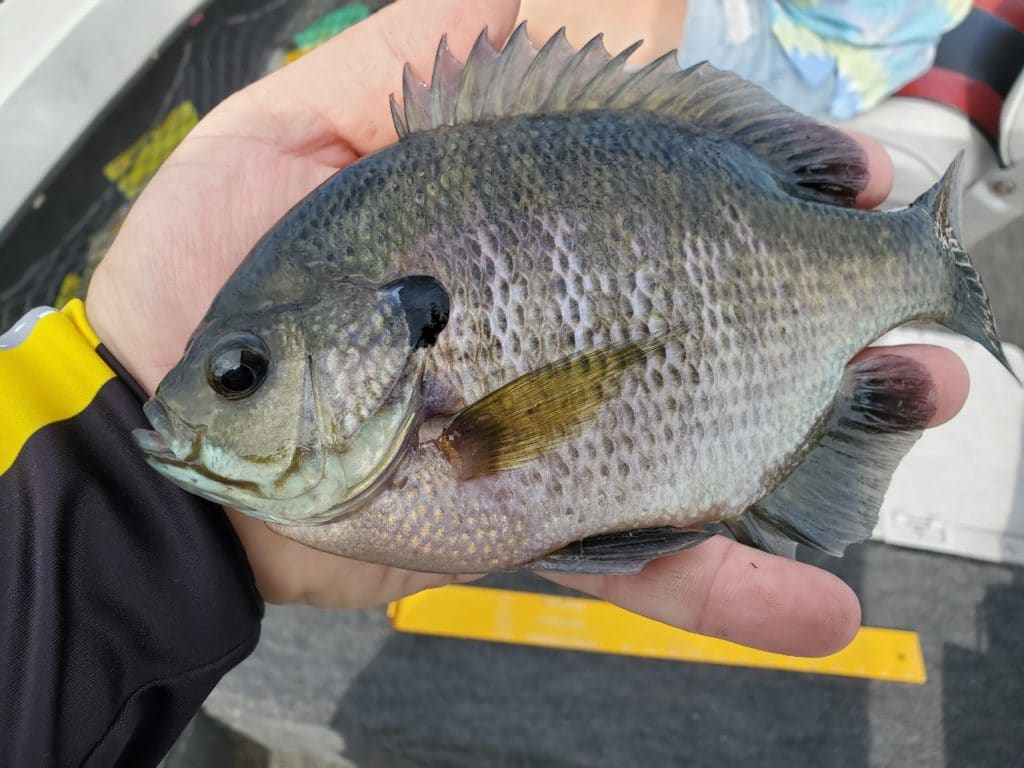 Daddy / Daughter Challenge
After a very heavy bass fishing orientated summer, I looked forward towards this weekend. Just me and my youngest daughter, Violet, up at our trailer for some fun and a bit of fishing.  On Sunday we hit a small lake in the Shawano area targeting panfish.  
Violet has a competitive streak.  She challenged her Dad to a fish off.  She won.  😉
Conditions
Partially cloudy
Moderate winds 8-12 mph from the south
Air temps in the mid 70s, but in the low 50's at night.  (Very mild for late August. I hope it doesn't mean an early winter!)
Water clarity 2′-3′
Water temps in the mid 70's
Patterns
A very consistent pattern for mid to late summertime bluegills is to look for flats between the deep weed edge and the lake basin.  Be sure you are targeting depths above the thermocline, which was at 22 ft.  ` If you motor around and watch your electronics you will find schools of panfish out roaming the flats.  Don't stop until your screen lights up like in the video above.  When you find some, Spot Lock or anchor and cast out slip bobbers with pieces of crawler or panfish worms on a plain #8 long shank hook.  I also like to have a few bobbers out with crappie minnows.  I've caught big crappie hanging with bluegills before… and the big bull gills will sometimes smash a small minnow.  I set the slip bobbers at various depths until fish tell us what is working best. The first 3 lines we throw out will be one set above, one set in the middle of, and one set below the school.  Most days fish want to strike up, but others days the other depths work better. Once you find out what is working, set all of your lines to the same.
When setting up slip bobbers be sure to use smaller bobbers and use enough weight so that only the top part of the bobber is visible.  I often see people with too large of bobbers or not enough weight.  If the bobber is too big, the fish will feel it or you won't easily detect a strike.  If you don't have enough weight on, the bobber will also be hard to pull under… and it takes too long for the worm to sink to depth. 
If the school moves on and you no longer are getting bit or see them on your electronics… give it 10 to 20 minutes.  Often there will be several schools roaming the same area so you can sit in one place and let them come to you. 
Baits Used
The old stand-by… bobber and worm

Smaller slip bobber
#6 long shank hook or small ice fishing jig (both tipped with a part of nightcrawler or panfish worm)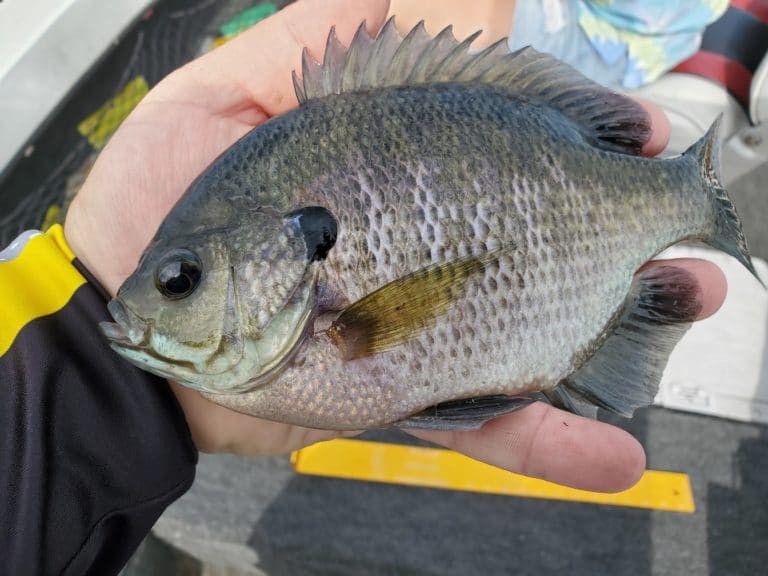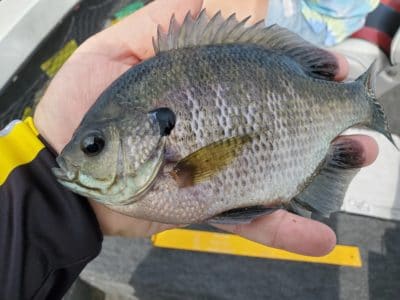 In Hindsight
I wouldn't change a thing. The weather was comfortable. My company was fantastic. We caught a ton of fish.  And my daughter outfished me (as it should be!). My day was loaded with great memories and a laughing kid.  What's not to love!