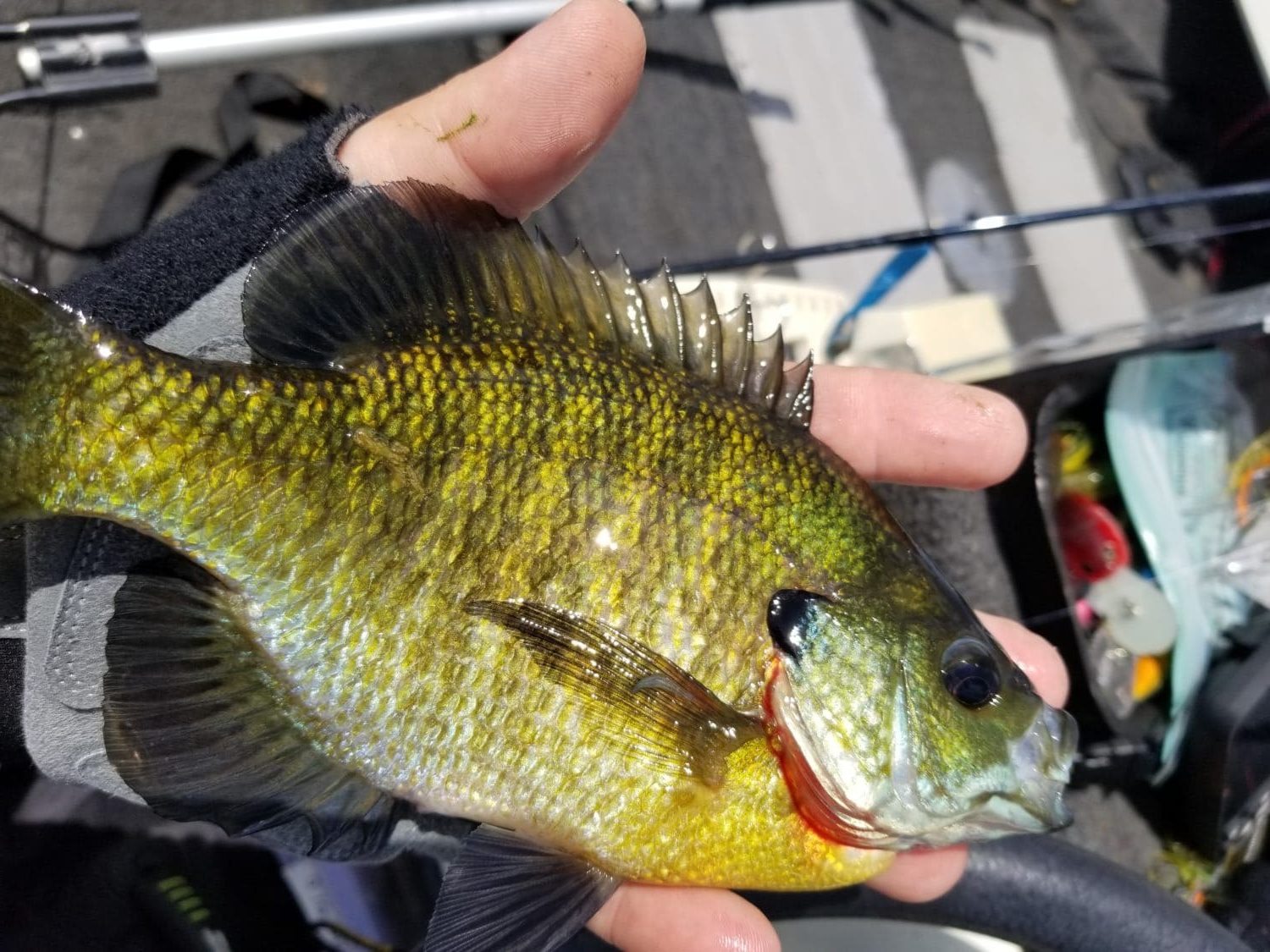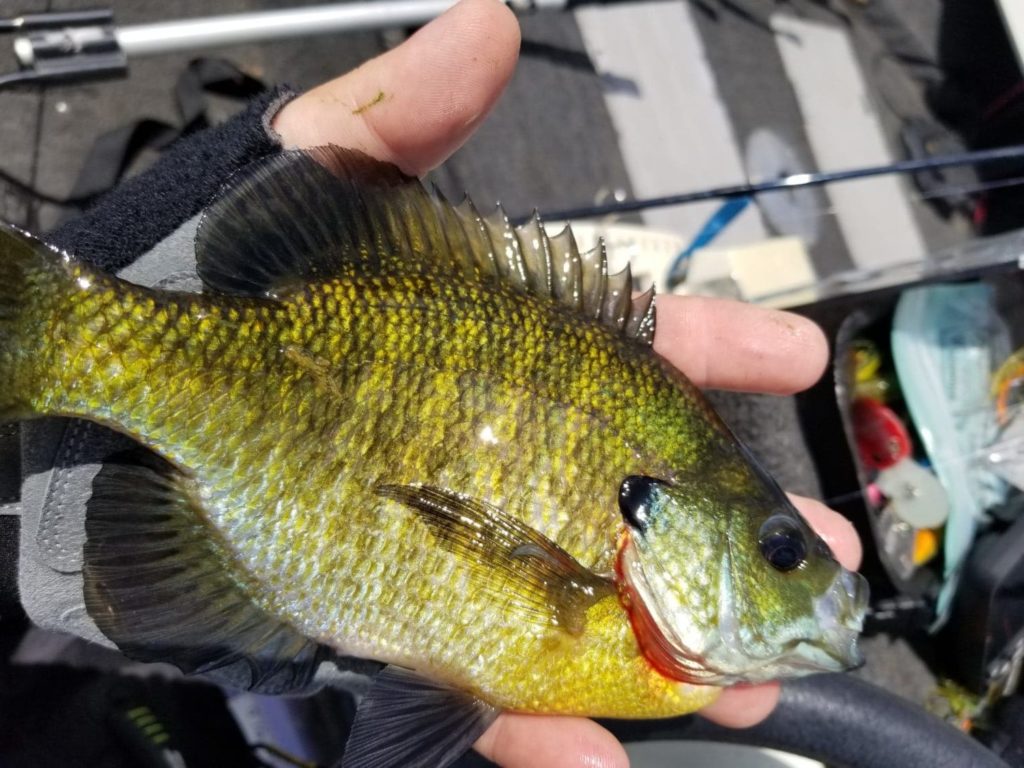 We have a trailer up north near Shawano.  We were up there for the week of 4th of July.  This was my first time fishing since Little Green and since getting some slump busting advice from MLF Pro Cody Meyer. I had a week to just fun fish, clear my head, and get some confidence back.  It ended up being just what the doctor ordered.
Shawano Lake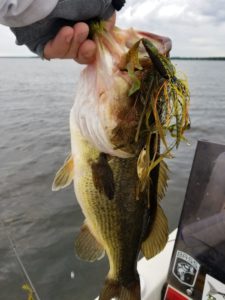 I spent 2 back-to-back days earlier in the week on Shawano Lake.  I avoided it like the plague 4th -7th of July.  That lake is crazy busy on holiday weekends.  
Conditions:
Sunny with clouds/scattered storms moving in in the afternoon
High 70's, low 80's humid
Moderate wind from the west on day 1, light winds day 2
Stained water. 2′-4'visibility
Water temps – 77-82
I drove by some of my normal spots, but decided to avoid them.  I went with a classic pattern. I found a large weedbed that had the wind blowing into it that was on a 4′ flat with 10-14′ of water around in in the eastern side of the lake. The top of the flat had a mix weeds up to the surface with surface weeds out to about a 9′ weed edge. I tried a frog on top of the flat first with no luck. I moved to a blue gill colored Colorado leaf spinner bait that I already had tied on over the subsurface weeds.  I got a few hits, but no hooked ups. So I switched to the same color tandem spinner bait with willowleaf/indiana blade combination.  That was the trick. I think the colorado blade was putting out too much vibration that the bass were hesitant and just slapping at it. On the 2nd cast after I switched, I nailed a 19′ postspawn female. And starting catching fish the rest of the day.  That simple change was the trick.
Day 2 the wind died down and so did the frequency of the bass, but the pattern held over both days.  Man… just what the confidence needed.
******* Lake (I'm not telling)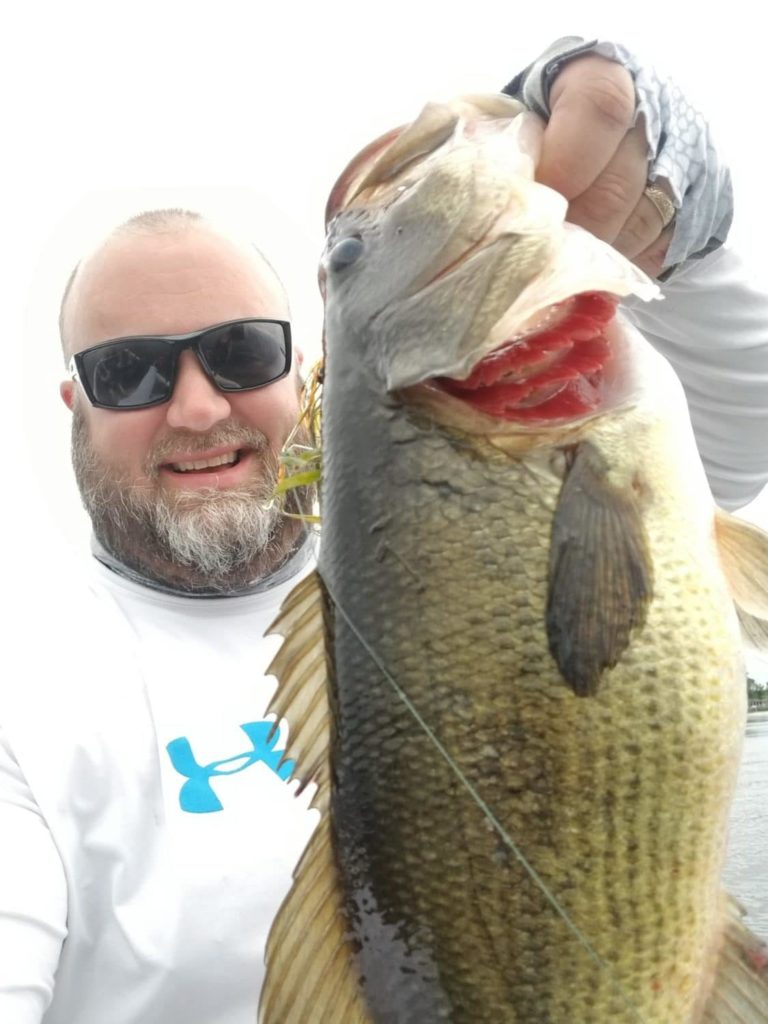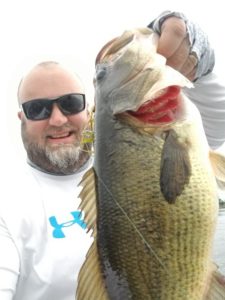 This is one of my favorite panfish & bass lakes.  If you are reading this report, I HIGHLY recommend catch and release, and selective harvest.  Let the big panfish go to preserve the fishery for years to come. .  or limiting your haul home. (for more info about the importance of big bluegills)
Conditions:
Day 1:

Cloudy, with storms hitting late in the day
Low 80's humid
Moderate SW wind
Clear water 6'+ foot visibility
Water terms 78-82

Day 2:

Sunny, clear skies
Low to mid 70's
Light wind
Clear water 6'+ foot visibility
Water terms 76-78
This is where I fished July 5th and 6th. On day 1 a front was moving in.  I hadn't been on this lake since the start of the bass spawn.  I found old nests all over the place where I was fishing on the east end in the openings in the shallow weeds.  I found a pattern right away throwing a Booyah Pad Crasher Bullfrog (in the Dart Frog color) with a wacky rigged Yamamoto Senko as a follow up bait.  The fish were holding to the edge of the mats next to deeper surrounding water (sometimes only another for or 2 deeper).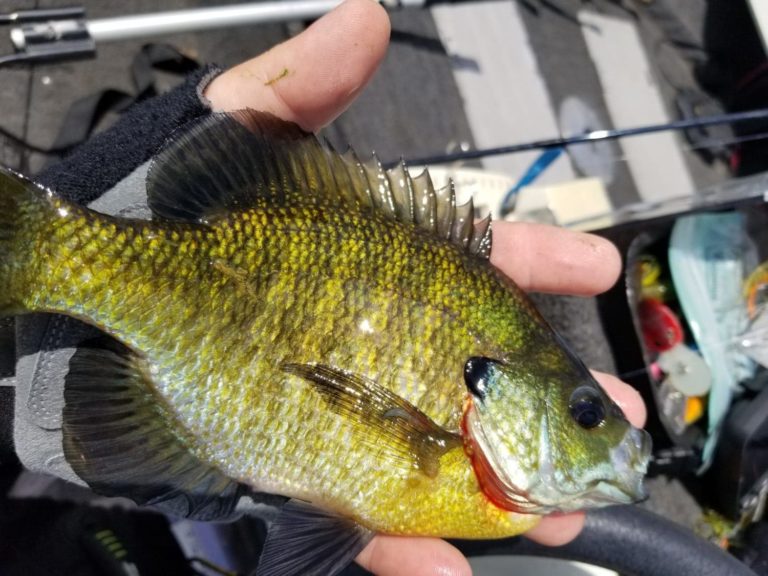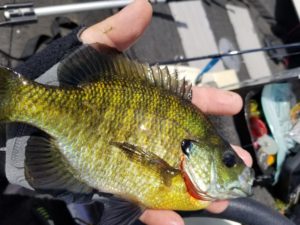 On day 2, was post cold front with blue sky's.  Fish were much tighter to cover and much more difficult to catch. I had a few slap the the frog, but the few I caught were on a weedless swimbait or swim jig.  Since it's such a good panfish lake I took a break around mid day and caught some crappie (most under 10″) and then caught some nice bluegills including a nice 9″ gill.  The crappie came from a weed edge in 8″ of water on some ice fishing plastics. The gills came on a chunk of worm under a slip bobber along the deep weedline along a drop off from 4′-10+' water. 
I'm looking forward towards ice fishing this lake this winter. I meant to make the trip last year, but just ran out of time.
Speaking of ice fishing, I also scouted out a new lake in the area, Berry Lake. It's north of Shawano, has a public launch, and is known for crappies and panfish also.  
Finally a Muskie… almost
Muskie – the fish of 10,000 casts.  Or so I'm told.  I've fished as often as possible since I was a kid. I've never caught a muskie. Never hooked one either.  You would think I would have at least accidentally caught one by now.  Even a small one. I'm due. I've been due for a while.
My trailer is near Gresham.  Gresham has a small hydroplant in town that generates electricity. There is a small ledge next to it with a 4′ high fence that sites about 2′ above the water.  I will often stop and throw a few casts for bass on my way through town.  If they fish are in, they usually will strike. If not, I head out.  So I stopped on the last day up north. We had gotten 2″ of rain from a storm a few days before and the water was up and the current was high. I was swimming a bass jig along the current seams when I got a hit and slammed the hook home only to have the fish pull  back…hard!  I thought at first I had on a huge bass… but I've never had a bass pull like that. I thought maybe a I had snagged a big catfish or carp.  It was fricken huge and pulled unlike anything I've ever fought.  After a short fight, I got a very clear look at the beast of a muskie took to the air and got 2/3 of it's (easily) 40′-50′ length out of the water. It was like it was in slow motion. The muskie up in the air. You could see my jig stuck in the corner of it's mouth. My jaw was on the floor. Followed by headshake while in the air and the SNAP my line broke. I just sat there for a while with a dumb grin on my face shaking my head.  Holy shit… that was fun. Now to just catch one!