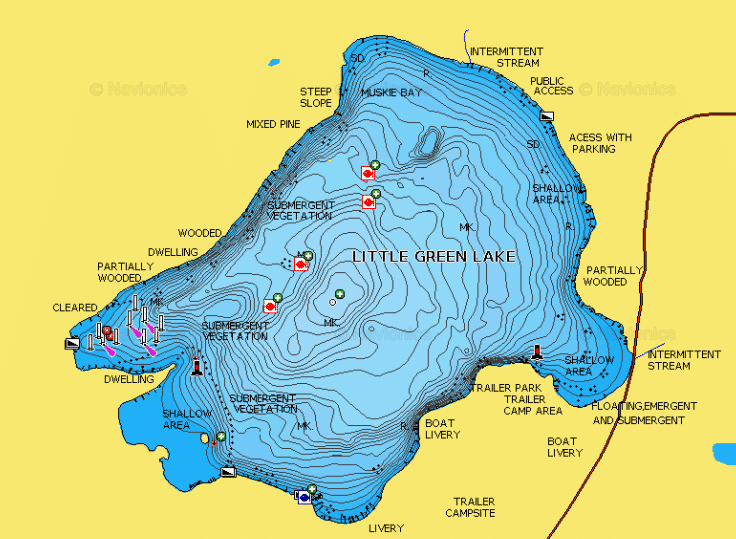 I fished bass league solo. Ryan was out waiting the impending arrival of his first grand child. 
Conditions:
Sunny, partial cloudy
High 70's
1-mph winds wind
Green stained water due to the algae bloom and weed die off. About a foot and half visibility
Water temps – 68 to 72 degrees
My nephew Tyler was out fun fishing earlier in the day, and was catching bass on the 7′ hump that is just outside of muskie bay. He was hammering smaller bass (12″ range) on a black/blue craw pattern DT10 crankbait earlier in the day before he tied into a monster 50'+ inch muskie. It was too large to fit into his net… so it broke it. By his own admission, he wasn't quite and had hollered for some other fisherman to please come help… but only pan fisherman and walleye guys were also on the lake and no one had a net big enough. He got the muskie to the side of his boat and was in the process of lifting it out of the water by the area under the gills when the muskie started thrashing around, shook free of his grasp and the DT10 and went on his merry way.
This story was later confirmed to me by a home owner on the lake who was on his dock as I fished by later in league. He started to tell me about how this kid hooked into a monster muskie and was hooting and a hollering it up trying to land the thing.  Apparently Tyler got the attention of pretty much everyone on the lake and was some good entertainment for the locals. For at least a little bit, Tyler was lake famous!
My plan for the evening was to find any green weeds that survived the herbicide treatments earlier in the year.  I had also marked a good number of fish on the bottom just off the first breaklines.  Having had a ton of luck the previous year with my green weeds pattern, I focused on that.
I found a good weedbed on the northern shore by a small inlet/drainage ditch. Makes sense since the fresh water would have helped wash the herbicide out of the area. Right by this inlet and nice weeds was a laydown with nice thick branches and heavy cover. The place just screamed "I HAVE A BASS".  The perfect starting point.  As league started I raced that spot as fast as my boat can go…. only to be slowly overtaken by another boat (1st place team that night) who beat me there (My '89 Yar-Craft is, sadly, the slowest boat in league with a 30 mph top speed). To add insult to injury within the first minute they were netting a keeper bass, which was one of the 2 they weighed that night.
I caught fish all night long on a variety of lures… but they were all just short of the 14″ size limit. If I had to do a redo, I would either redouble my effort on that same weedbed and pick it over the entire period.  My gut says it was the right location. I just needed to buckle down and fish it.  I also wish I had spent more time in practice on those fish I marked on the bottom just off the first breaklines (Like I reported that I should have done last time we were here).  Could have very likely been walleyes, but could have also been bass. I should have fished them more during to determine what they were. Something to remember for last time.