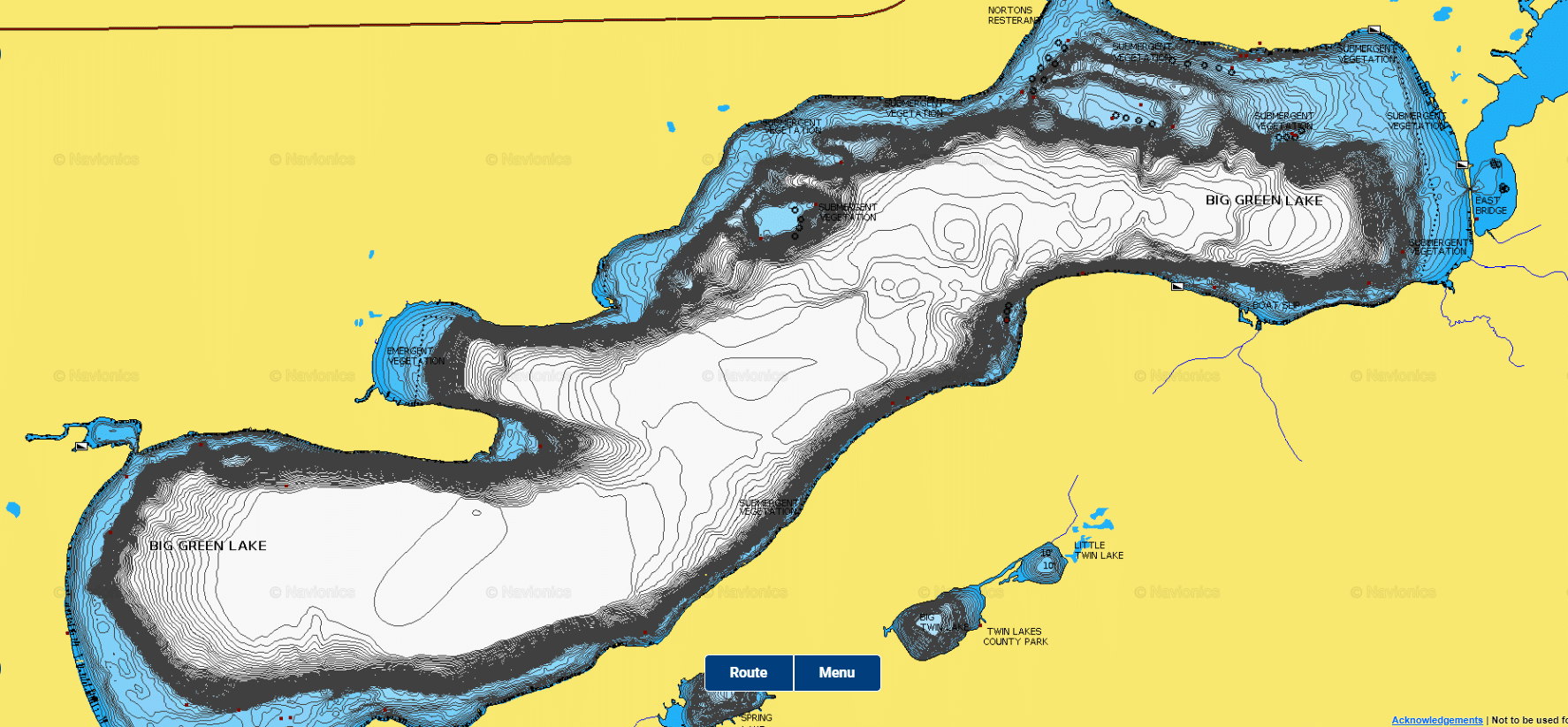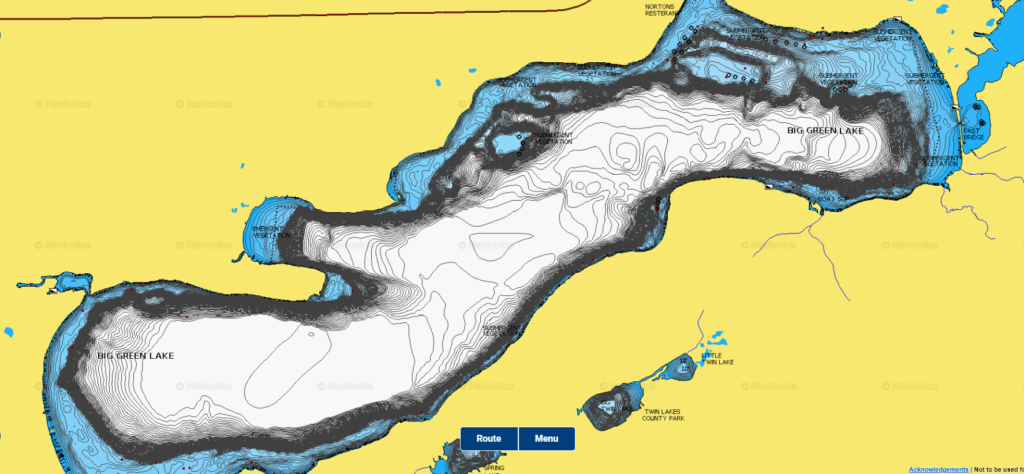 Bass league this week was on Big Green Lake.  Big Green Lake is a very large lake… but it fishes small. You can start by eliminating the water over 50′ deep, and that leaves about 1/4 of the lake left for bass fishing. 
Just like last year at this time, the water conditions were something to be desired. The lake had recently been sprayed for weeds, their was a huge filamentous algae die off, and the lake had been stirred up from a few days of high winds and lots of boater traffic.  This combination left the water with a dingy brown toilet water type color. Your lure would often come back covered in blown, slimy decomposing weeds.  Water visibility was only 1′ to 2′ by shore, and a bit better around 3′ to 5′ in deeper water.  The wind was blowing from the West, so that shoreline had better visibility,while the east shoreline was the worst. 
I chose to target pre-spawn smallmouth bass.  Big Green is a big lake.  I have one of the slowest boats in my bass league (tops out at 31 mph).  I assumed most boats would be targeting largemouths and make the run across the lake to Beyers Cove and the back of Norwegian Bay. Both are on the west shoreline and both good largemouth locations this time of year.  There was zero chance I beat anyone to those locations, so I chose to focus on targeting pre-spawn smallmouth who were staging in the main lake.
At least that was my plan. During scouting I stopped at one of my favorite spots ( a gravel/rock pile on a sandy point between Malcolm Bay and Dartford Bays) , marked fish, and almost immediately caught a 3 lb prespawn smallmouth on a crankbait.  Bingo! Just what I was looking for.  I found that spot last year and have consistently done well for smallies there.  That spot was going to be my focus during league. The downside is that it's not a big spot. The smallies seem to come up in roaming schools to feed, then pull back off. So you get flurries of fish after fish… then it slows down for a bit before the school fires up again or another school roams back over.  No one else targeted that location of the lake the last few years of league… so I figured I should be ok.
I scouted a few other spots, caught a few 2 lb smallies (also on crankbaits) and headed into league feeling pretty good.  
Then league started. I was rapidly outpaced by faster boats… and in dismay saw one of the newer guys to league veer off, and setup right on top of the rockpile I wanted to fish.  Literally… right on top of it.  Within 10 min, I watched them catch 2 smallmouths (both smaller) casting off the rock pile into the shallow sand.  And that is where they fished the entire night….catching smaller fish (under 14′).  They ended up not catching anything longer than 14″.  Had they pulled back a bit and cast to the deeper rock pile (instead of the shallow sand) they would have done better.
But, they beat me to the spot fair and square. I tried fishing the outside edge of that rockpile waiting for them to move to a new spot.  But they seemed content catching the dinks up shallow.   After 40 min, I gave up and hit my backup spots… of which now had boats on them. I eeked out a few shorts (under 14″) and ended up weighing nothing for the day.  Poor decision making on my part. 
Conditions
Water temps varied from 58 to 72
The main lake water was like dirty toilet water
1-2′ visibility by shore
3-5′ visibility out in 12'+
Most bass were still in pre-spawn
Lessons Learned
I need a faster boat, so very, very much. And one with a larger gas tank too. 
I shouldn't get hung up on one pattern or location. Shit happens. Make better decisions and roll with the punches better
I should have targeted largemouth in these water conditions.  Smallmouth bass primarily feed by sight. Largemouths are better suited for feeding in poor water conditions. 
Largemouth bass were still in pre-spawn/spawn on Big Green. (This lake is ALWAYS weeks behind the rest of the lakes around it due to being so deep and cool).  I should have targeted them shallow, around docks leading into spawning locations, and in the spawning locations. 
I'll remember these lessons next year. This is one of the reasons I started blogging my fishing reports. I can learn from the past, stop making the same mistakes, and continually improve.