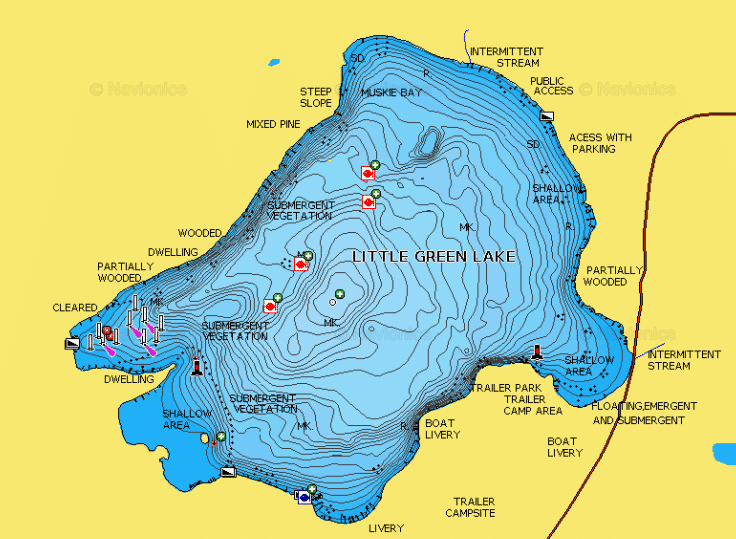 Today was a day of two different periods.  We found a pattern we could run consistently all over the lake during practice. We were feeling pretty good going into league.  Then league began, and the pattern maddeningly disappeared. 
Conditions:
low 82, sunny
SW 3 – 6 mph winds
Water temps were pretty much 83 everywhere
under 1 foot visibility, chalky green stain to the water, with what I think is some some toxic blue/green algae along parts of the windward shore
Very few weeds. The sprayed the lake and it was pretty complete.  There are some lily pads, some scraggly sandgrass, and some patchy coontail in parts.
The Pattern
During scouting we tried several different things and found (what we felt was) a very solid pattern.  With the clear sky and low wind we found the bass to be tucked back into the darkest shade either right up on shore, in heavy lay downs, or along docks.  They would only hit the bait if it was a slowly presented plastic bait, in a vertical or very slow presentation. We managed only one strike on a horizontal moving bait.  Ryan switched over to one of is favorites, a weedless power shot rig with a PowerBait Power Worms Soft Bait in Black and immediately started getting strikes.  I switched over to a black/blue glitter colored Yamamoto Senko rigged neko style (my favorite for skipping into tight spaces) and soon was getting strikes also.  We purposefully didn't set the hook if able, preferring to try and save the bass for league in a few hours.  We ran all over the lake testing our pattern and it worked very place we tried it. We had between 20 & 30 strikes in a hours and a half window running this pattern. During practice we still ended up hooking 7 bass, all legal size ranging from 14 1/2″ to 18 1/2″ (all nice fish). It was unavoidable. Those we did hook, engulfed the bait. There was no "barely hooked". They loved what we were serving up.  
We headed to the the start of league feeling like we had a very solid pattern dialed in…only to find out that in the hour we were waiting (and re-rigging some rods and eating a sandwich) that things changed drastically.
We spent the first half of league running the same pattern… and didn't get one single keeper fish, just 2 small largemouths. All of the strikes we got during practice… gone. Mind blowing. What was rock solid an hour or so ago completely dried up.  The weather was the same… the only change was the angle of the sun.  We tried switching it up. Tried in the shade, on the edge of the shade, outside away from the shade, by the shore, a way from the shore, in cover, on the outside of cover…. you name it.  The pattern was gone. POOF!  The second half of league we spend in the same areas we found the majority of fish during practice but with different baits, different depths, etc in hopes of finding where they went with limited luck (more small largemouths). We didn't manage a keeper the rest of the night.
At the end of league we found that most other boats also struggled and only a few boats had fish to weigh in.   It was a maddening night.  We had a pattern. It was fast and furious and repeatable. We could have easily caught 20+ fish during practice… only to have it dry up in about an hour or so.  The only thing I can think of is that as the sun angle changed the bass moved out of the shade and went….. I don't know where. Maybe the bass on Little Green feed more during the daytime. With the lack of water visibility, maybe they are more effective where there is better lighting. I don't know
I don't like mysteries. They are begging to be solved. I wish I had time this evening to hit the lake around 3 and run the same pattern to see if it still holds with the sun higher up… and then grind out the evening and find out where they went.
Baits Used
Errata
We have a new hat style for sale.  You can view the new Fishnetics – Trucker Cap here.  I don't know about you guys, but I love a trucker style hat with a mesh back during summer.  Normal baseball type caps make my head sweat when it's hot out. 
Three trips to Little Green this year and we didn't take a single pic, which explains the lake map pic again. 
Big Green Open tournament on Saturday. Last week of league next week (also on Big Green) followed by the Fox Lake Open on Saturday.  Then that's likely it for competitive fishing this year.  Then it's onto fun fishing for a few months until the lakes freeze over.