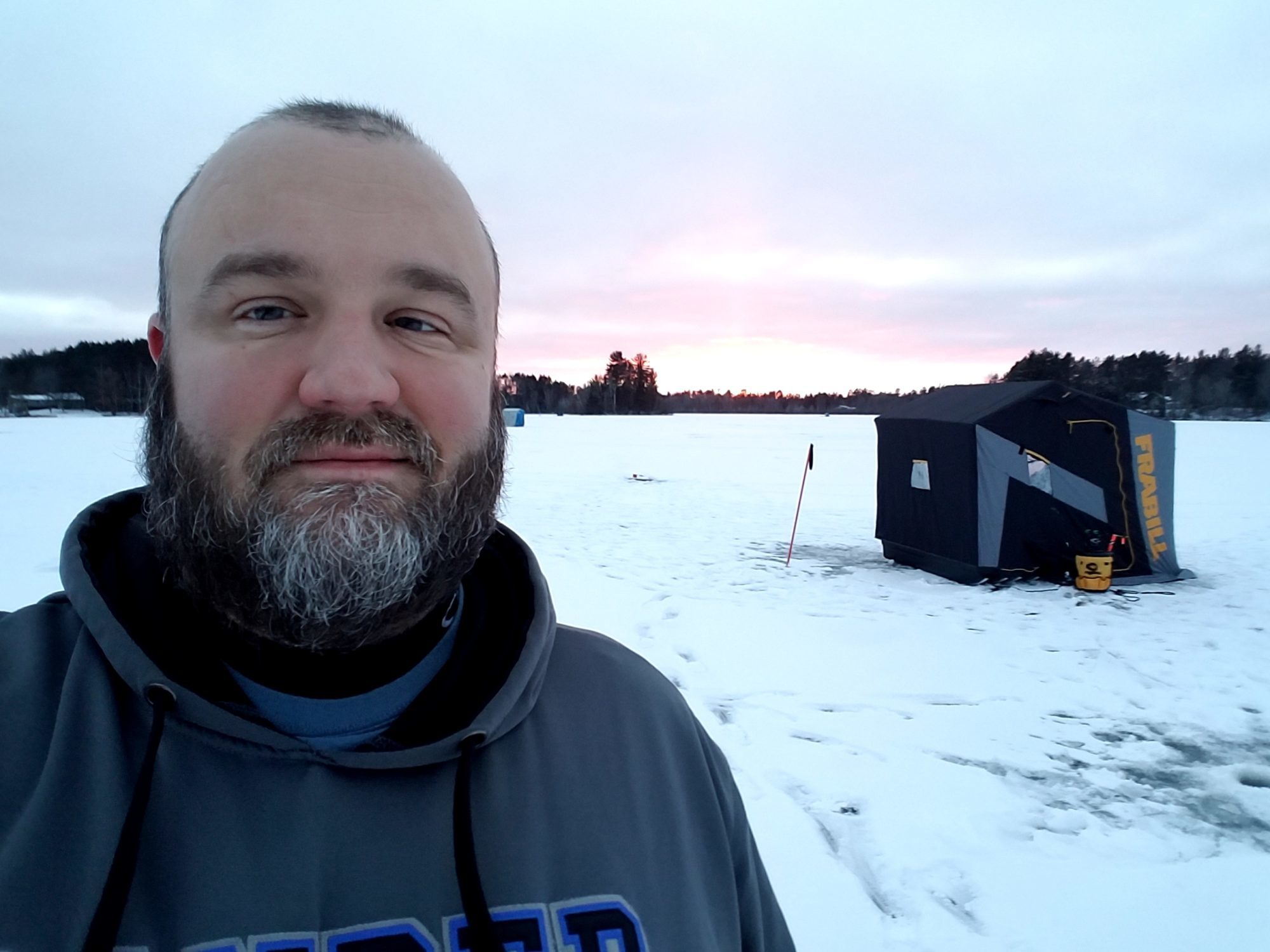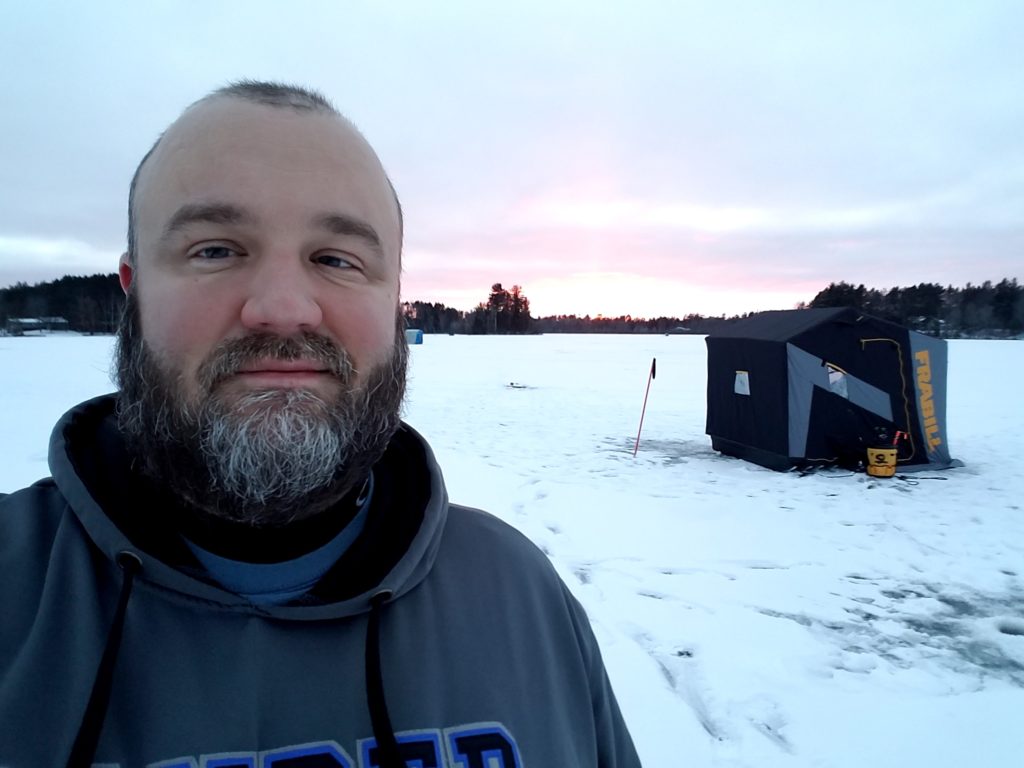 Lake Alice – Dec 9th, 2017 Fishing Report
The first ice fishing trip of the year is over. Shawn Kennedy and I headed up to Lake Alice on Saturday for some first ice action. The word was already out online... Lake Alice had good ice (5-6"),  and we were not the only ones who made the trek.  One of the trucks we passed on the way up north was loaded with ice fishing gear. We ran into them again at the launch. 
The lake is not on Navionics, so we had no typographic lake maps. Our plan was to follow the crowd and play it safe.  Thankfully we were also able to buy a locally made map at a local bait shop stopped at to get minnows. We setup shop along a drop off between some sand and sand gravel mix, with stumps in the area. We used a spud bar to test the ice as we went. One of the first holes we drilled and planned to setup the shelter over, caused a crack... . Needless to say, we moved to more stable of ice.  (Safety first!)
Tip-ups were a no-go. We had them out all day. Shawn got the only hit, but the pike cut/snapped the line. The fishing overall was kinda slow.  
My cigar might have made the difference.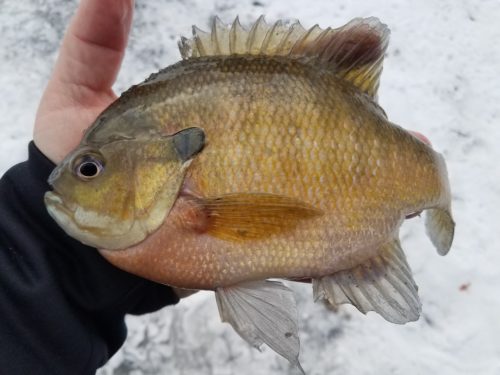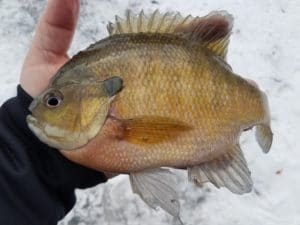 It was about 2PM, we hadn't had any bites for over an hour.  Our Vexilar's were empty with no fish being marked, so I stepped out of the shelter to smoke a first ice cigar and do a bit of hole hopping. First hole I dropped my jig down... which was only about 10' from our shelter, I pulled up a personal best bluegill 9 1/2". That was followed by a few small ones. I hoped around to a few other holes... and eventually one of them ended up being right over a nice school. Every drop I got hit... about 1/2 were small, but the rest were bluegills and pumpkinseeds in the 5"-7" range... with a bonus 12" fat jumbo perch. If I hadn't had a cigar to smoke... I might have stayed where it was warm.
The majority of my fish came on a 4mm Nuclear Perch (glow) tungsten jig from Larsons Quality Jigs, tipped with a red spike & a wax worm. The water was stained and the glow of the jig seemed to help.  I had tried spoons and a rippen rap, but the sound seemed to spook the fish. They wanted subtle.  I had to pound the bottom until I saw the bottom line indicator on my Vexilar get just a bit thicker...which meant a fish was looking at the disturbance. I would then slowly raise the jig and slightly jiggle it on the way up. Usually that red bottom line on the vex would separate from the bottom as  1 or 2 fish would follow it up before hitting it. If I jigged to much, they would go away.  Just a jiggle, nothing more. If I didn't have a flasher, I doubt I would have caught any of them or know that what I was doing was working.
Here are things I learned this fishing trip:  
Getting up at 4 AM with a buddy to drive 162 miles to find safe ice. Totally worth it.
I love my new Frabill I2 jacket and bibs. I was comfortable on the ice all day. Low teens with  5-10 mph winds
I need to put some rod holders on my Genz box to make it easier to carry my stuff while hole hopping. (Doing this mod later in the week.... will post pictures)
Beards rock. My face was warm all day.
Inline reels.... first time using them. So far I think they might be betting inside of a shelter than hole hopping in the wind. My 3lb test keep coming off the reel if there was a bit of slack in the line and the wind it. Besides that fact, I really liked my new inline. The jury is still out. Need some more time on the ice. Anyone else have this experience?
 Need to put a hook or hanger in my shelter for to hang my coat.  We had one along and since the shelter was Shawn's he got to use it. My coat got cold because it was down in the sled when I was in the shelter.
I love absolutely love my Vexilar. If you ice fish, and don't have a flasher. Get one. It's a game changer and is the difference between getting skunked and catching fish.
I can't wait for my Ice Jager Glow cup to arrive. I'm going to mount it on my Genz box so I can just drop my jigs in, recharge them, and get back to fishing without having to pull out a light or bending down.
 I think I need to hole hop more.  I have the gear to stay warm, so why not be more active.
Need better ice cleats.  Thanks to Shawn Kennedy... and my aching neck and shoulders for reminding me about this one. We went to move our shelter and it was partially frozen. I turned around to pull harder and my feet slipped out (I was wearing cleats... just not good ones). I fell.... hard. Lucky I didn't smack the back of my head on the ice.