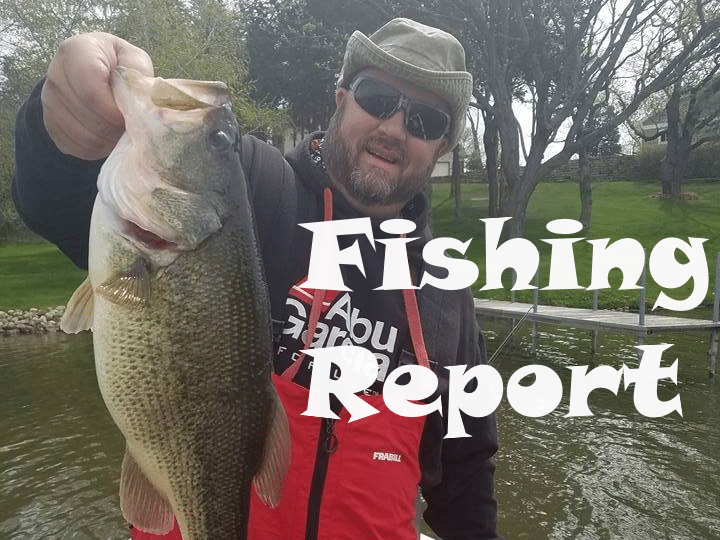 I'm not sure what the fish were doing.  Nobody found a good pattern. A very tough tough night. 18 boats and only 4 legal bass over 18″ caught. Over 18 inches. Many of the anglers caught very few bass in general but lots of pike. 3rd place went to Frank Kiesling with 3.54 lbs. 2nd place went to Rick Wendlandt and Gary Gottchalk with 3.74 lbs and 1st place went to the team of Rehm and Kaylee Scumacher with 3.91 lbs. Kaylee caught it.
Conditions
Water Color: Green stained
Water Visibility: 6″ to 1 1/2″  visibility
Water Temp: 58 to 63 degree surface temps
Depth: We focused on weedy flats 4′ or less, leading into or near spawning grounds  (others were off the first drop offs… and didn't do any better than we did)
Weather: Highs in the low 60's, cold wind from the NW (5 to 10 MPH)
Weeds: Few surface weeds. Most are still under the surface… few lily pads here and there. Snot grass is starting to form. 
Misc: Mayflies were hatching.
Did not find a bed yet. We were out here the previous week and they were in the shallows and feeding.  
I suspect with the 80+ degree temps the preceding Saturday/Sunday that the bass were moving up and about to spawn… and the cold front locked them down. The heavy rains chilled the water off. Coldest water I found (58 degrees) was in the various feeder creeks. The bass bites that we did get were hard. They were choking the baits.  Pretty much all males. Seems that if they were feeding, they wanted it.  Best baits for me were a bluegill colored spinner bait (Thumper style with large Colorado blades), and Ryan was using a 1/2 oz blue/black chatterbait, and a hollow belly swimbait.
The last time we were on the lake during the lake fly hatch the bite was tough too.
I suspect that the spawn is right around the corner. Need some warmer/stable temps… forecast calls for that in about 1 1/2 weeks… so suspect the spawn will be around mid May.  We return to Fox Lake for league on June 2nd…. Should be end of spawn/postspawn