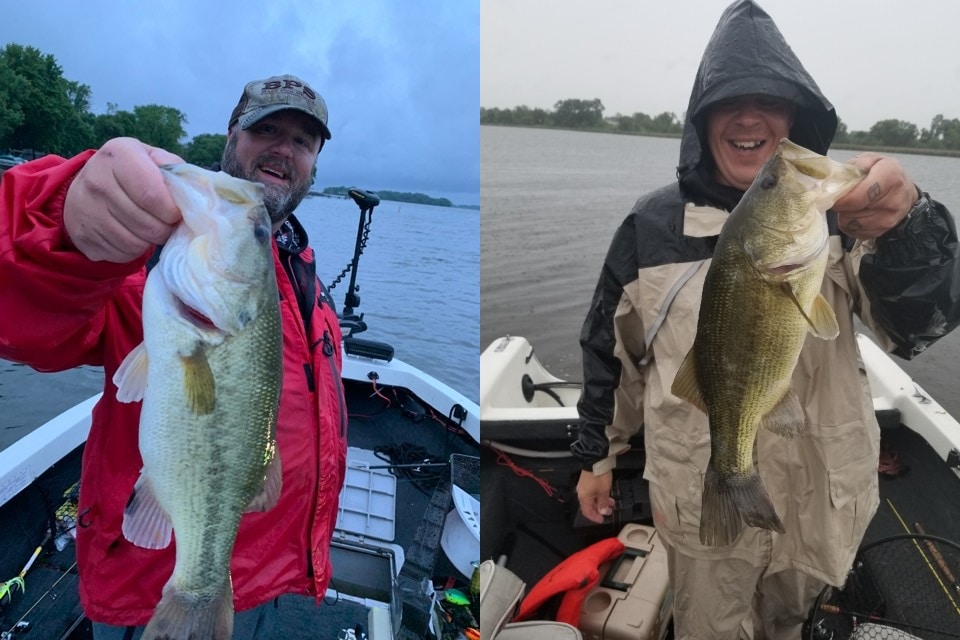 This will be a 2 part fishing report. We fished Fox Lake for our Wednesday league on June 12th, and 3 days later Tyler Fink and I fished the WABTA Fox Lake Open (48 boats).  My nephew Tyler was fishing the Saturday tournament with me, so he was on the lake every day in his small jon boat locating fish and putting together a pattern. He and I communicated all week long about what the fish were doing.
Wednesday, June 12 on Fox Lake
Wednesday June 12th was a very, very wet day.  A front was moving through. The air temps had dropped 17 degrees from Tuesday. It was overcast and raining all day. Tyler had been out Monday and Tuesday before the front hit and the action was pretty fast and furious for him.  I expected things to have slowed down with the drop in air temp, but in reality it was a pretty good bite all night long.  While the air temp had dropped 17 degrees, the water temperature hadn't really fallen off yet. The rain was warm and the water temps were holding in the 67-69 range where we fished.  The wind was a good 10-20 mph out of the North East. We chose to fish in the Jug, slightly sheltered out of the wind.  We caught pike… lots and lots of pike with some nice bass sprinkled in. We targeted a 2-5′ weedy flat just off bluegill beds. The pike seemed to be closer to shore and the beds and the bass were further out, about 2 to 4 cast lengths from shore. Every bass we caught was spawned out. 
Conditions:
Steady rain, low clouds
Air temps in the mid to low 50's
Water temps from 67-69
Water clarity was ok.  Varied from 6″ to 3′
10-15 MPH winds out of the NE
Fish caught on buzz baits, and Colorado bladed spinner baits, dark colors. About 20 pike (at least 6 over 30″) and 8 bass with 2 over 18″. Every fish NAILED the bait.  I lost two, 1/2 oz. bream spinnerbaits with a Colorado/Colorado blade combination from Kajun Boss and one 1/2  crazy gill color spinner bait with a large willow leaf, colorado blade combination also from Kajun Boss due to pike bite offs.  Thankfully I had one more for Saturday. The fish absolutely crushed the the spinner baits and buzz baits every time.   It was a real fun night fishing in the rain!
Every team but one weighted 2 fish over 18″.  I think our weight was in the middle of the pack. 
Saturday, June 15 on Fox Lake for the  WABTA Fox Lake Open
I was pretty excited and didn't sleep well. This was my first weekend bass tournament. I'd wanted to fish them since I was a kid. When I was a kid I wanted to be Al Linder or Roland Martin.  I was excited as a kid before Christmas leading up to the event.
We were the last entry into this tournament and had a heart stopping moment when we went to check in and they couldn't find our registration.  I don't have internet on Fox Lake.  Thankfully someone did and was able to find our entry. We were boat #48… and as the last boat registered we were the release boat.  Every boat had to come by our boat as they headed out. We verified there were no fish in the live well before they could take off to their spots.  Being the release boat also meant that we were the last to head out…. 🙁
This tournament for was 2 bass per boat, 18″ size limit.  As mentioned in the video, we knew we needed at least 8 lbs to stand a chance of winning some money. That prediction was spot on. The payouts went from 7.97lbs to 8.98 lbs.  We figured it would take 9 lbs to likely win it. (Again we were close with 8.98 lbs taking it), and felt that if anyone could bring in 10lbs to the scale they would run away with it.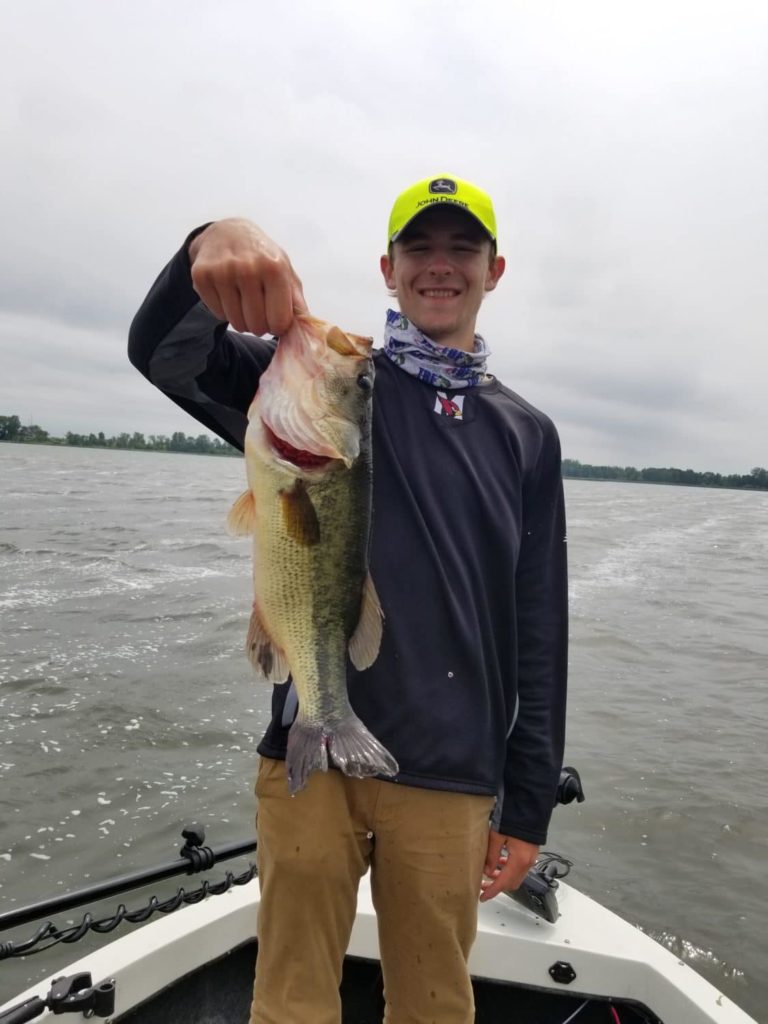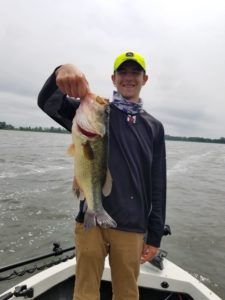 This event was the Tyler Fink show.  He did the majority of scouting. He found the patterns and we ran his patterns the whole day.  Let me tell you…this kid can fish.  He did a great job scouting and putting together a pattern.  He executed very well all day long. And if he keeps at it, will be one hell of a good tournament fisherman some day.  Not to shabby for an 18yr old who just graduated from high school.  He's hoping to get on the UW Madison Fishing Team. He starts school there this fall.
Several of the spots we had hoped to fish, especially the deeper locations, were already being fished by the time we were done being the release boat. The primary deep spot I wanted to fish already had 8 boats on it by the time we could finally fish.  
Conditions:
Sunny in the morning, turning cloudy around 11:30 AM
Air temps in the mid 60's, cooling off after the wind switched to the NE around 11:30 AM
Water temps had dropped to 64 by Thursday and had slowly climbed back to 68 by 11 AM and then dropped dropping to 66 by 2 PM
Water clarity was OK.  Varied from 6″ to 2′
Winds from Thursday through Saturday AM were from the south west. The morning they were light (5mph) but switched to the NE around 11:30 and steadily built up to 15mph by 2 PM.
Our deep pattern got camped on by several other boats all day long, so we concentrated on our shallow pattern. We were targeting weed beds about 2 cast lengths off of shore, just off of some bluegill spawning beds.  With the drop in temperature as the front came through on Wednesday night, the bluegills had abandoned the nesting areas that Tyler had found during scouting.   Much of the water clarity of the places Tyler had scouted had taken a turn for the worse.  It took us a while, but after catching 1 or 2 fish per location, of the the scouted locations started to pay off. It was a more sheltered weedbed in 2'to 5′ of water that hadn't been all stirred up by the wind the last 2 days. The weeds were healthy and green and the water clarity was around 2′ to 3′.   We worked that area most of the day. 
We caught fish all day long.  More pike than bass. Something many others reported. We knew we needed 2 nice bass. Tyler bagged a 19″ spawned out female around 8:30 AM and we spent the rest of the day looking for one more to pair with it.  We came up short…. like 1/4″ short several times.  We also lost 2 big bass at the boat that were larger than the one we weighed. We had the bites to content… we just didn't execute and get them in the boat.
I rotated through baits as the day went on. I felt a sim jig would be the ticket.  I never had a single bit on a swim jig and I threw it a lot.  I had the most luck with my lone remaining 3/8 oz. bream spinnerbaits with a Colorado/Colorado blade combination from Kajun Boss.   I wish I had one more larger 1/2 size.  It seemed to me that the larger baits did better on Wednesday and Tyler had more luck with the larger baits all day long.  Tyler  threw a larger Strike King Shadalicious soft plastic swimbait (I think he was using the 5 1/2″ size) rigged weedless all day, and he slayed the fish with it.  He easily outfished me 2 fish to 1. He threw that bait into some of the thickest cover and it came through with ease and the fish just killed it all day long. 
At the end of the day though, we were 1 good fish out of it.  We caught a ton of bass (and pike) but just couldn't catch that second 18″ inch fish. Every time we felt we had that fish in the boat… it came off the hook at the boat or would read 1/4″ short on the bump board.  We finished 34th out of 48 teams. Not quite the ending I had hoped for, but it was a great experience and we caught fish…. just not the right fish.  I have 2 more tournaments this summer.  One more on Fox Lake and another on Big Green that I'm looking forward to.