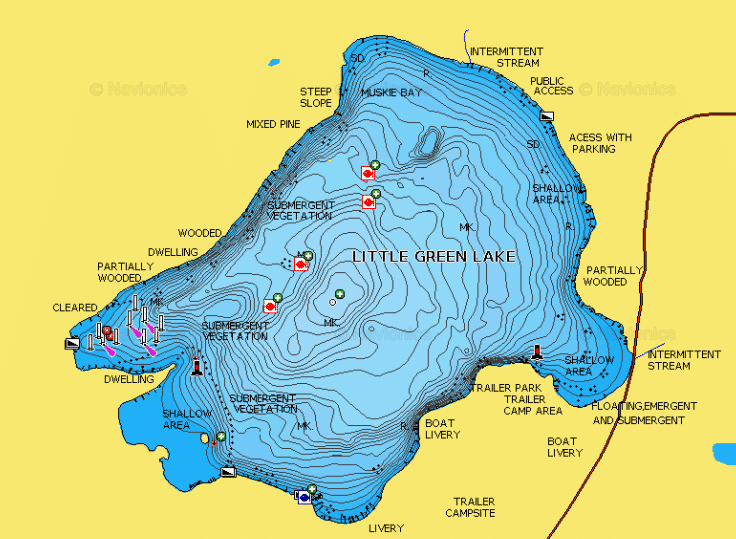 Little Green is a smaller lake so we cruised the shorelines of the lake with one guy in the bow and one driving in early/mid afternoon.  There was little wind in mid afternoon so there was lots to see. We found lots and lots of bluegills on shallow beds, and bass cruising the shallows.  Saw very few bass on beds…and the ones we saw were smaller males guarding the beds. WE also found out that Little Green had been sprayed for weeds a week prior.  Ugg… that always makes for tough fishing.  We started bass league around 6 PM and the water conditions of the locations we wanted to fish had changed by then. 
Conditions:
Mostly sunny
Water temps from 63-70
Water clarity was good (1'to 4'+ feet)
Low winds in afternoon, picked up later on but still low
We concentrated on just outside of a massive bluegill spawning area hoping to pick off some hungry post-spawn bass feeding on the gills.  By the time league started the filamentous algae had risen in the water column and now coated the surface. All of the fish we could see a few hours before were hidden from few.  But combined with lack of site… so went lack of action. Where before there were fish popping on the surface and you could see the "v's" of fish swimming just under the surface…that was gone too. Seemed that when the algae started to block the sun, the fish just kind of hunkered down.
Fishing was tough for most everyone.  Those who did well found the larger post-spawn females out deeper beyond what was left of the weed-lines.  I didn't hear of anyone doing really well. Everyone worked for the fish they caught. To my knowledge everyone caught fish, but few teams managed 2 keepers (14″+).  We only managed several males that were too small to keep and one nice post spawn female on a bluegill whopper plopper that was just under 3 lbs…. probably was a good 4+ lbs a week ago when still filled with eggs.  The smaller males were taken with a Neko rigged Yamamoto Senko.