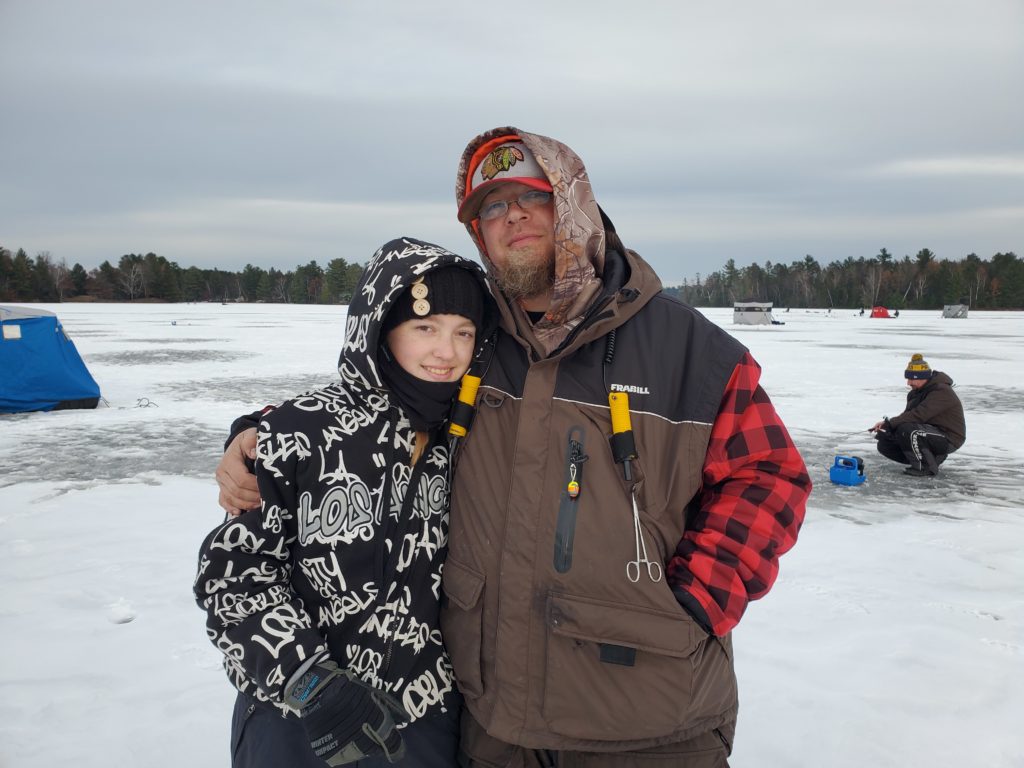 This was the day that ice fisherman dream of all summer. It was first ice!  For the second year in a row, a polar vortex descended upon the midwest and brought single digit temperatures to Wisconsin in mid November. There were people in upper Wisconsin on ice as early as November 9th!  What else to do, but go ice fishing!
We held our first Fishnetics Ice League on Lake Alice by Tomahawk Wisconsin on Saturday, November 16th.  This was the furthest we have ventured from Fond du Lac for a league event.  Back home the ice was still sketchy, so about a dozen of us headed 2 1/2 hours north.  Lake Alice has never disappointed.  We always catch fish.  
One of my favorite parts of ice fishing is the social aspect.  We grilled out, caught up on conversations, worked on planning a mid winter ice fishing trip, and some family bonding going on. 
 Conditions
 5″ to 6″ of good solid ice
Mainly cloudy with occasional sun
Air temps started in the low 20's and rose to around 34 by 2 PM
Winds in the 8-15 mph. (If it wasn't for the wind, it would have been gorgeous out!)
Water clarity 2′ to 3′, stained
7′ to 14′ depths
scattered stumps
Unsure of bottom composition, but it gave off softer sonar returns.  
Patterns
Target Species:  Crappie & Bluegills
Between us all we easily had 50+ holes over our area.  A few setup tip-ups and Sullivan tip-drops for crappie.  Most hole hopped and jigged for bluegill and crappie, which was the most effective technique.
Everyone I talked too reported the same story.  The fish were tight to the bottom. You had to jig very aggressive to get them to inspect a jig… and when they approached you had to slow way down and slightly raise the jig for them to bite.  The fishing was a slow/steady all day long. If you stayed mobile you would find fish.  But you had to work for them.  The most common jigs where of the glow variety.  I tried a few UV ones and they didn't seem to help.  The hottest jig ended up being a gold tungsten jig tipped with spikes or wax worms. I never got a bite on anything but a small tungsten jig tipped with live bait. I never got a bite on a minnow (on my STD, Sullivan Tip Drop), spoons, jigging raps, or rattle raps.
Matt Jolin and his son Brennan (a member of the North Fond du Lac high school ice fishing team) stayed out deeper than most in 12′-14′ water. Brennan was the only person using a gold tungsten jig and very quietly put on  a clinic.  I'm pretty sure he iced more fish (between 20 and 30) than just about anyone.  He also had the biggest crappie of the day (14″)… but sadly didn't enter the competition. 
Equipment Used
I'm in love.  I was in the market for a new auger. I knew I wanted electric. I looked at all kinds of different units, but I kept coming back to a drill/auger combo. I needed a nice cordless drill for around the house also. This seemed like an effective way to kill two birds with one stone.
I ended up buying a Milwaukee M18 Fuel 2804-22 brushless cordless 1/2″ chuck drill and paired it with a 6″ StrikeMaster Lite-Flite Lazer Ice Drill Unit.  I've used the Strikemaster Lazer augers before and loved how effortlessly they drilled a hole in the ice. This was my first time using this new combo and it didn't disappoint.
It was amazing.  It was so light, and all I had to do was place it on the ice and pull the trigger.  The Lite-Flite Lazer blade pulls itself through the ice in seconds.  Between me and others using my auger, we easily drilled 30+ holes with it and still had plenty of charge on the battery left over. The combo is very, very fast cutting holes. It made setting up a grid of holes very quick and non-strenuous.
And I probably saved myself several hundred dollars for this. Most electric ice augers are in the $550-$750 price range.  Check out this price breakdown:
$404.40 TOTAL – a minimum of a $145+ cost savings!!!!  And I now have also have a cordless drill I can use year round!
StrikerICE Predator Jacket
I loved my Frabill jacket so much I use it as a daily coat during the last several winters.  It's showing some wear and tear, and it's not a float ice fishing jacket.  It was time for a new ice fishing jacket and I wanted a float jacket for safety reasons. I tried on several different float jackets at a local sporting store and found most to be too bulky, except for the StrikerICE Predator line. I found them to be lightweight, less bulky and very warm.  It also features a lot of pockets for storage and some vents to keep you from overheating. 
In the past when I go ice fishing I layer up. I normally have long underwear, a hoodie, and my ice fishing jacket.  I had to remove my hoodie within the first hour. It was just too hot with my StrikerICE Predator and I even opened up the vents in the coat. I was comfortable all day long with my jacket partially open. The jacket also offered great wind protection.  I think I'm going to like this coat for ice fishing. 
The Winners
Biggest Crappie – Tony (11″)
Biggest Bluegill – Vince (8 3/8″ )
Biggest Bluegill (kids) – Rylee (8 1/2″)
Biggest Crappie (kids) – None registered
In Hindsight
Great start to the Fishnetics Ice League.  Lake Alice remains a good (but not great) early ice location.  I'm keeping my eyes and ears open on alternatives.  It's always been a slow steady bite.  It's consistent.  I'm keeping my options open.  The next event isn't scheduled yet.  We have warmer temps this next week+ which is going to kill the ice back by Fond du Lac.  I'm hoping to find some safe ice closer to FDL for the next event. I'm eyeing the Saturday after Thanksgiving.