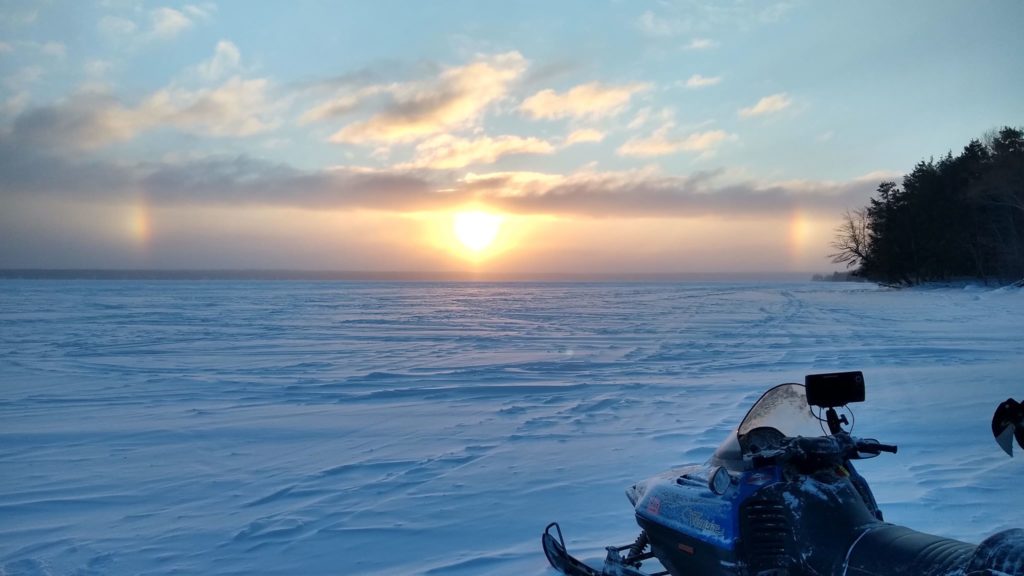 Every winter for the past 4 years a group of us have headed off on a several day ice fishing trip.  It's a great way to break up the winter, gives us something to look forward to,  and gives us an opportunity to fish on bodies of water we may not otherwise be able to fish.  This year we headed up to Lake Gogebic.
Lake Gogebic, in the U.P. (Upper Peninsula of Michigan), is known around the Midwest for it's jumbo perch…. affectionately referred to as "Teeter Pigs".  These fast growing, gigantic perch benefit from little pressure and a very heavy forage base of "wigglers" (AKA mayfly larva). They grow fast and during the winter the females are just overloaded with eggs getting ready to spawn.  They are also infamous for being very finicky and light biters.
Like the last 4 years we ended up taking our trip during the coldest weather of the year.  (Remember that polar vortex that brought -60 below wind chills in 2019? That was our 2019 trip to Devil's Lake, ND). This year was the coldest weather on record this winter, coldest recorded wind chills, and some a very high pressure system all during our trip.  Yup, we sure know how to pick when to take our trips…. not.
It was a tough trip, with few fish caught…which is why the first featured image for this report is a snowmobile/scenery picture and not a fish picture.
Fishing Conditions
Fishing conditions were brutal.  The weather was single digit cold with sub-zero wind chills that sucked the life right out of you.  And it was accompanied by  sky blue skies in between short snow showers with a high pressure system right overhead.  Only thing missing was a blizzard.  Coldest weather of the year + high pressure = slow fishing.
We only had 1 snowmobile for our group, so it took us multiple trips to get on and off the lake each day. There was a about foot and a half of snow on the ice. Other areas instead had 1 inch of snow over by deep slush pockets.  Travel was for snowmobiles or on foot only.  
Watch for those slush pockets if you ever fish Lake Gogebic.  One of our group ran afoul of one.  It took them over an hour to dig the snowmobile out. 
Fishing Patterns
To prepare for Lake Gogebic, I spent hours and hours scouring various fishing sites and watching every Lake Gogebic perch ice fishing video I could find… like this great 4 part series on YouTube. 
We fished shallow. We fished the basin out deep. We fished humps, saddles, flats, points, outside edges, inside curves.  We fished high in the water column, on the bottom, pounding bottom, middle depths, and right under the ice. 
We tried minnows, went through lots of wigglers, white spikes, red spikes, crappie minnows, and soaked some walleye minnows too.  No one pattern held.  Truth is… between 8 experienced ice fisherman and 4 days of fishing we managed only about 15 fish…. which is not good. 
We marked a ton of fish with our electronics. We even had one guy with a Garmin Panoptix. Don't get me wrong…we found fish.  Lots of 'em. They would come in and just stare at our baits for the longest time…and then usually swim away.
Outside of a few tiny walleyes, the few fish we caught were of a good average size with 2 trophy class fish (1 perch, 1 crappie) to bring home.  (Neither guy who caught a trophy fish took a picture of themselves holding the fish.)
Surprisingly, very few fish were caught on deadsticks or set lines (Tip-ups, Tip Downs, or Automatic Fisherman), which Gogebic is famous for.  Most fish were caught jigging.
Fishing Locations
We fished 4 different locations on Lake Gogebic. In fact, on the third day we found where all of the guides were fishing and tried that area too.  Didn't matter, we and everyone else seemed to have a very slow weekend.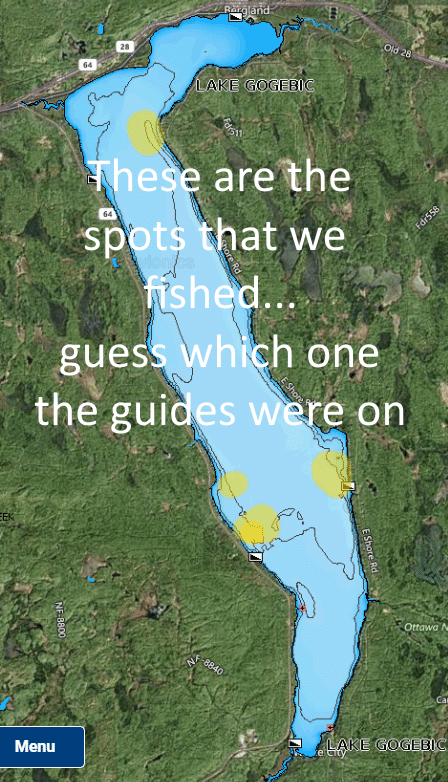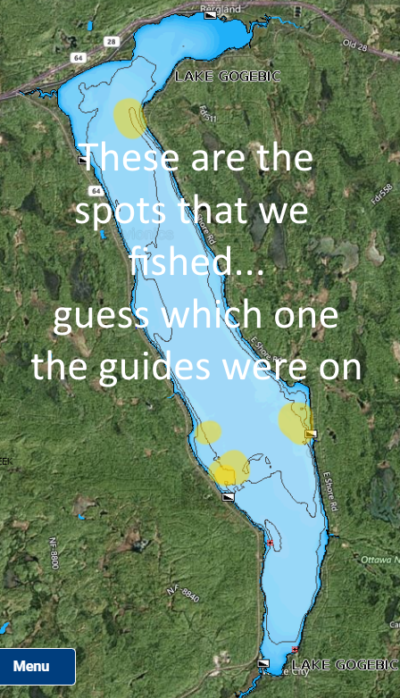 Live Bait Used
Wigglers!  Mayfly larva (also called Wigglers) is the primary ice fishing bait on Gogebic and their primary forage.  We also tried crappie minnows, white spikes, red spikes, minnow heads, and walleye lures. Wigglers were the best bait to tip lures, followed by wax worms
Lures Used
You name it we tried it.  Most fish were taken on a smaller ice fishing spoon tipped with a few wigglers and 1 wax worm.  
In Hindsight
It was a fun trip with 7 other great guys.  While the fishing was slow, we still had fun.  We marked a ton of fish. I feel that we were in the correct locations. The guys at the bait shop said we were fishing the right locations too. 
The weather conditions doomed us from the start. I didn't think the spot so much mattered with the bad weather conditions. We knew it was going to be slow and a grind…and it was.   I'd like another crack at Lake Gogebic. 
#1 Tip for Fishing Lake Gogebic
You NEED a snowmobile to ice fish this lake properly.