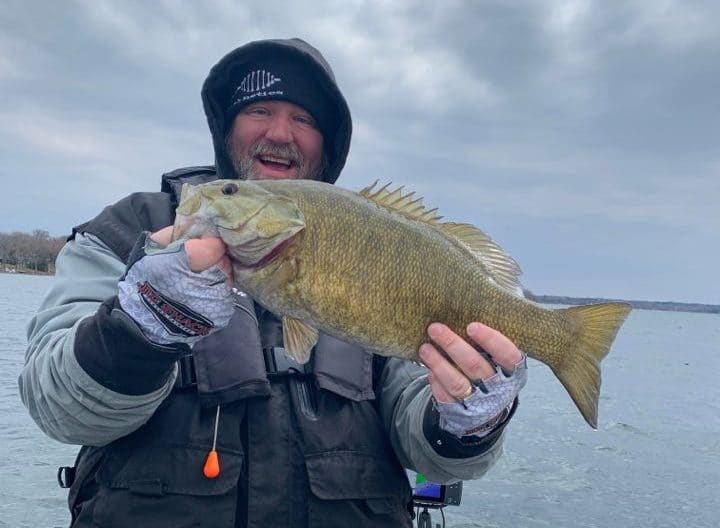 NEW RULES FOR BASS FISHING
At long last, bass are legal to fish for year round.  As of April 1st, 2020 Wisconsin is allowing catch & release fishing for largemouth and smallmouth bass outside of the regular fishing season.  Finally… ice out bass fishing in April was legal!
I finally hit the water on April 3rd, 2020.
CONDITIONS
Cloudy
Ice couldn't have been off the lake more than a week or two
12-18 mph winds with gusts over 20 mph
36-38 degree main lake temps, 43 in the backs of shallow bays
Water clarity in the main lake was 6-8 foot due to an extended period of of cold windy days, crystal clear in shallow bays
PATTERNS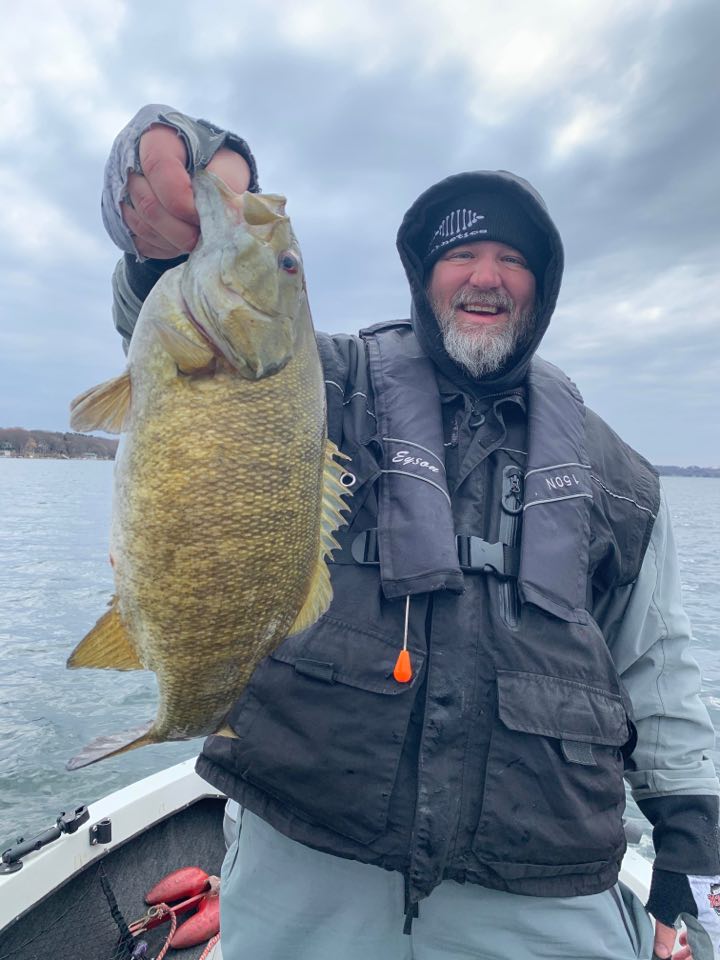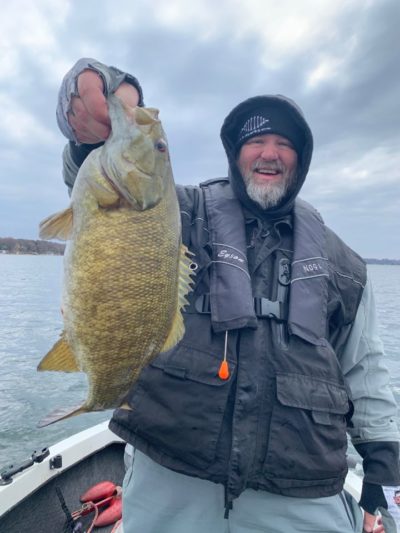 We checked the shallows first.  Water temps in the shallows was just 43 degrees.  Few fish in the shallows.  The water was crystal clear.  We saw occasional small pike, but no baitfish, only dink bluegills and perch in the shallows… and not a lot of them. Never saw a single bass in the shallows.
We took advantage of the lack of weed growth and went out to the main lake and started dropping waypoints on cribs and other deep structure.  The only places we marked gamefish and baitfish was off the first drop off in 20′ – 30′ water around cribs, not on the cribs… but in the area around them.  No luck on drop shots… except for a nice 24″ walleye.  No luck with ripping vibrating crankbaits.  Nothing on jerk baits or crankbaits.  Ryan managed a smallmouth bass dragging a football jig.  The best bite we found was a reaction bite on a minnow colored blade bait in the 22′ to 27′ range.  
The retrieve was simple. Cast as far as possible, strip line off your reel so the bait would fall straight.  Rip the bait up with the rod, let the heavy lure crash into the lake bottom as you reel in the slack, and repeat all the way back to the boat. The key was making sure to to let the bait plummet to the bottom on slack line.
When a blade bait falls on slack, it falls randomly and very quickly.  I'm sure as the bait crashed into the bottom it also creates a small visual "poof" of sediment to further attract the fish. The fish would hit on the fall. You never felt it. When you went to rip the bait, if a fish had hit, you would set the hook as you ripped the bait. We didn't catch a ton, but but… we caught bass… in April.  That is always a good thing.
Biggest fish of the day was a 4.51lb smallmouth bass.
BAITS USED